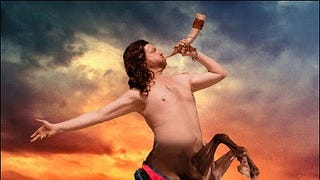 The Preakness, like all of horse racing, has a problem: no one really gives a shit anymore. It got to the point where Pimlico nearly lost the race.
Ok, this has been bugging me since Saturday, so I have to ask—was trainer Bennie Woolley Jr. carrying a gun at the Kentucky Derby? (Probably not—but wouldn't it have been great if he had been?)
So another reader has checked in and claims that the art of port-a-john jumping was actually perfected at the Kentucky Derby in 2007, as these photos demonstrate.
With Leather had this yesterday, but it's too beautiful not to share with you as well: It's Port-a-John racing, in which you run on top of portable urinals and have beers thrown at you. This is exactly what our parents' wedding was like. This is from the Preakness ... of course.
The news appears to be improving for Barbaro, the Kentucky Derby winner who went down during the Preakness with a broken hind leg. Not since that Joe Theisman video did we recoil quite so much during a sporting event (we were all sad when they had to shoot Joe in the lockerroom afterwards, weren't we?). After a…
The Preakness has come to an end, and there was very little drama involved in determining that there will not be a Triple Crown winner this year. Barbaro jumped out of the gate early and tried to get a head start. He had to be calmed a little bit, and they got him back in the gate. When they started again, he quickly…