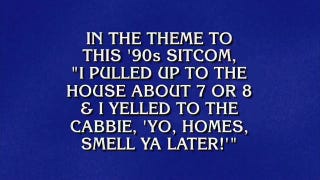 Alex Trebek is no stranger to rapping on Jeopardy!, and America's favorite former Canadian took on the flow tonight when lyrics to the Fresh Prince of Bel-Air theme song turned up in a first round category. He got in one little fight, and his mom got scared.
Last night was Shane Battier's annual karaoke event, known as "Battioke," which in the past has brought us gems like Mike Miller and Chris Andersen singing "Ice Ice Baby." The highlight of this year's event was definitely LeBron James going all-out on "Back That Ass Up," with an assist from Michael Beasley.
What you see above is Shaquille O'Neal hanging out in what looks like his mom's basement with two of his friends and spitting what I guess qualifies as a freestyle rap. Shaq takes a predictable swipe at Dwight Howard, but this dis track is nowhere near as devastating as "Kobe, Tell Me How My Ass Tastes."