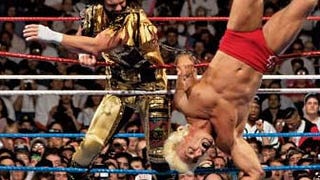 Every morning, the fine folks at Sports Radio Interviews sift through the a.m. drive-time chatter to bring you the best interviews with coaches, players, and personalities across the sports landscape. Today: the Nature Boy reminisces about Wrestlemania, and launches the Macho Man's candidacy for the WWE Hall of Fame.
Far be it from us to impugn the trustworthiness of professional wrestling, but when a court order comes down saying that the headliner of your pay-per-view event "could not touch or be touched, grapple, shove, throw or have anything thrown at him by anyone working for or watching the show," well, we're probably not…
Weirdest thing, though, is that the promotional angle has pushed over into the real world; the man who was paralyzed in the famous Make It Rain strip club shooting is a former professional wrestler, and some guys are threatening to really hurt Pac Man.