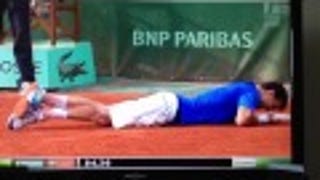 Richard Gasquet hit an overhead winner to end a 56 second-long point with Grigor Dimitrov in their French Open second round match today. Gasquet promptly threw up his banana and Dimitrov fell to the ground with a severe leg cramp. Dimitrov never quite recovered; Gasquet would take the next three sets.
French tennis player Richard Gasquet told officials that the reason he tested positive for cocaine last March was because he kissed a woman who had cocaine on her lips....and that worked! Suspension over! It's strip club time! [BBC]
You might remember tennis player Richard Gasquet's loud proclamations that he does not like doing it with dudes. Fair enough. But it now appears Mr. Gasquet is in serious danger of protesting too much.
Roger Federer, staving off a surprising surge from longtime rival Rafael Nadal, won his fifth consecutive Wimbledon yesterday. (His first Wimbledon win was over that idiot on that dumb NBC reality show, by the way.) But the real winner wasn't Federer, but semifinalist Richard Gasquet, who finally batted down those…