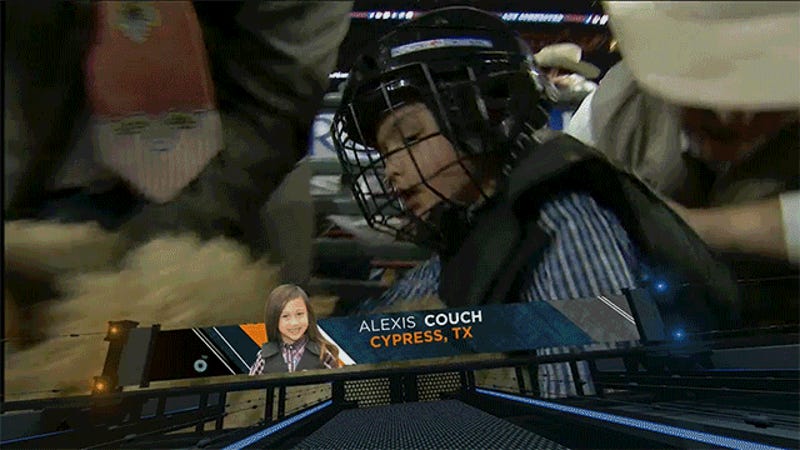 Looking for some weekend reading? Check our our buddy Sam Eifling's long and awesome story about professional rodeo riders. [SI]
You know the part in Westerns where a bad guy gallops off with some widow's or orphan's horse, so the roguish anti-hero tears after him on his own stallion, and when he catches up to him the two battle it out stride by stride until the anti-hero finally shoots the bad guy off and thus has to corral the two horses by…
America is a beautiful, horrifying, crazy-ass mishmash of distinct geographic regions, as we know from watching John King's index finger on election night. This extends to all aspects of American life, of which the most important is obviously sports. Beyond the televised pro leagues (and their college counterparts),…
The scores of finance bros and curious onlookers who crowded into Madison Square Garden for the arena's annual dabble in rodeo over the weekend did not get an authentic picture of the tradition. They had overpriced pints of light beer and Cracker Jacks; some, I'm sure, had worn plaid and cowboy hats and taken on…
"We've had wildlife in the city before, but I don't remember a bull being downtown and you're right ... we were concerned for the bull and for citizens' safety." — Mike Hirman, Auburn (WA) Police Department [WJBF]
Do you like mutton bustin', but wish it had less adorableness and more frightened squealing? Then maybe the Japanese pig rodeo is more your speed.
What's dressed up as a physical competition, but barely beneath the surface bubbles a thick undercurrent of sexual tension among powerful, fit young men? Yes, all sports. But specifically, gay rodeo!
We can all agree that Mutton Bustin' is a good thing. But are liberal parents threatening the sanctity of this fundamentally American rite of passage? Yes. They are.
I'm no rodeo expert, but I'm pretty sure this kid isn't doing it right. But such is life in the breakneck world of mutton busting; sometimes you ride the mutton, and sometimes the mutton rides you. Yes, mutton busting ... because in the old west, it was so important to break the wild sheep herds that roamed the…