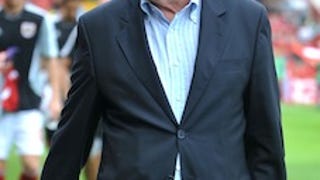 "If you want a Savile Row suit, you pay Savile Row prices, but you can still put a suit on your back from Tesco's... It would be unfair to expect the Tesco man to look as good as the Savile Row man." [West Brom manager Roy Hodgson on the team's bankroll, via Yahoo! Sport]
ESPN Soccernet's West Bromwich Albion blogger posted a fake interview with Roy Hodgson, the real new West Brom manager, this afternoon. Within minutes, higher-ups at the WWL had deleted the post, per @dirtytackle.
Roy Hodgson was canned today, after a mere, if bleak, six months as Liverpool manager. An "unprecedented" wave of ire from the bleachers forced Hodgson out.