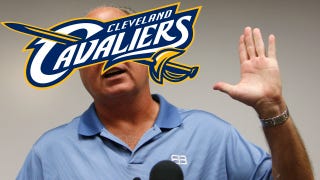 "Tonight..." RedState's tsquare intones in a headline, "We Are All Rush Limbaugh." And then it gets so much better.
Much like softball is the favorite sport of lesbians and soccer the preferred choice for illegal immigrants, radio talk show host Rush Limbaugh declares basketball "the favorite sport of gangs." I thought it was dominoes? [MediaMatters]
Would the universe implode if he traded for Donovan McNabb? Aside from his short-lived experiment with ESPN's Sunday NFL Countdown, Rush previously worked in promotions for the Kansas City Royals and frequently references his sports fandom on his show. Speculation on Limbaugh as an owner has intensified since owner…
I seek not to ruffle any political feathers, as today should be a day of shared football love, but at the same time, I have an obligation to bring you the best and the brightest football analysis out there. And when you're looking for football analysis, you look to one man (especially if you're ESPN): Rush Limbaugh.
…