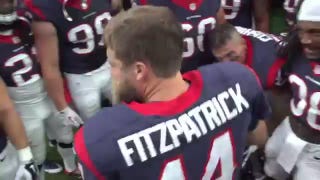 Before beating the Buffalo Bills 23-17 yesterday, Houston Texans quarterback Ryan Fitzpatrick gathered his team let them know that he really, really wanted to beat his old squad. Here is a rough transcription of his speech:
Every morning, the fine folks at Sports Radio Interviews sift through the a.m. drive-time chatter to bring you the best interviews with coaches, players, and personalities across the sports landscape. Today: Yes, even better than Will Proctor, Cullen Harper, or Kyle Parker. Probably.
Got an image you'd like to see in here first thing in the morning? Send it to tips@deadspin.com. Subject: Morning crap.