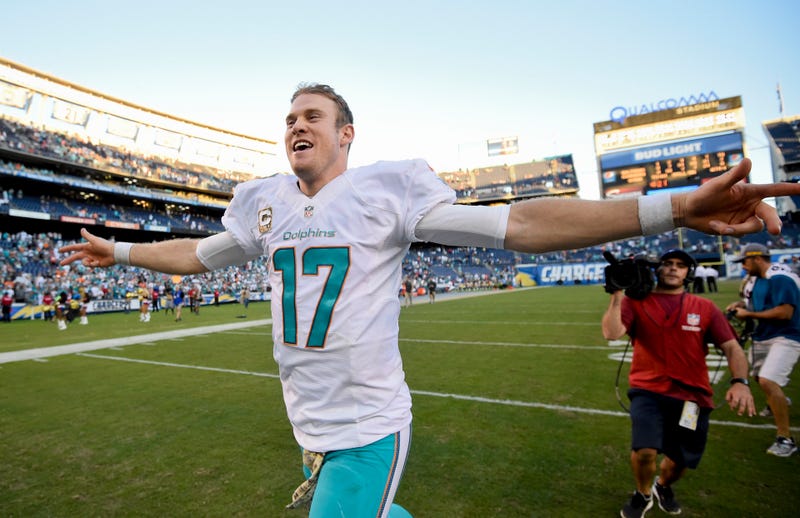 A symptom of rooting for a team piloted by a mediocre quarterback—say, for instance, the Miami Dolphins—is being periodically reminded of how hard it is to beat a team that has a quarterback who simply makes plays. A guy who can routinely stick throws on third down or scramble out of pressure is an unbeatable trump…
Miko Grimes, the wife of Miami CB Brent Grimes, has never been shy about sharing her feelings on the Dolphins, more specifically that everyone who's not her husband is trash. But after the Dolphins sputtered to a 18-12 loss to Indianapolis, Miko sprayed some exceptionally caustic vitriol toward QB Ryan Tannehill, and…
On the Dolphins' third play from scrimmage in their 38-20 loss to the Jets, Ryan Tannehill threw a short pass behind Rishard Matthews. When Matthews turned for the ball—it went past him—Jets safety Calvin Pryor slammed into Matthews's torso. He would leave the game with what were described as rib and chest injuries.…
Whenever an NFL coach gets fired, it's always fun to sit around and wait for the follow-up stories that shed some light on just how bad things were before the firing. The Dolphins fired head coach Joe Philbin this morning, and the National Football Post's Aaron Wilson has provided us with such a report.
A few days ago, a Reddit user posted the above picture of a rifle, claiming his friend had found it in the back seat of a rental car near the Fort Lauderdale, Fla., airport. Who could possibly have forgotten such a large and terrifying weapon in a rental car? Miami Dolphins quarterback Ryan Tannehill's wife, it turns…
Last week, Andrew Luck of the Indianapolis Colts showed the most poise out of all the rookie quarterbacks who played in Week 1, according to people who wrote about him. Did Luck maintain his grip on the poise title in Week 2? Or did any of the other four rookie quarterbacks—Robert Griffin III, Russell Wilson, Ryan…
Mark Sanchez was the king of "poise" during his rookie season in 2009. That year, you'd have been hard-pressed to find any writers using any other word to describe him (seriously, you would). Now, after just one game this season, five first-year quarterbacks—Robert Griffin III, Andrew Luck, Brandon Weeden, Ryan…
HBO's Hard Knocks has to maintain a balance between access and secrecy. The fans get to spend a few hours with the players and coaches in unusual settings; the coaches go along with the cameras but still get to obscure their plays and play calls from the public. Everybody wins all the time. Well, almost all the time.
Two weeks ago, photographer Roger Snider did a pair of shoots with Lauren Tannehill, the wife of Dolphins QB Ryan Tannehill. He doesn't say for whom, but according to LobShots, it's for Maxim. Of course, Miami is the team on this year's Hard Knocks. It's possible HBO will have its biggest crossover star since Peter…