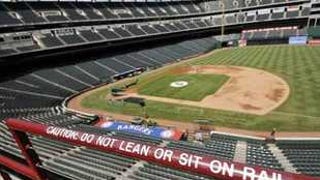 "The Rangers will raise the height of the front row rails at Rangers Ballpark in Arlington to 42 inches, an increase of as much as 12 inches in certain areas of the park, as part of new safety initiatives at the facility following the death of fan Shannon Stone... The rail that Stone fell over was 34 inches." [ESPN]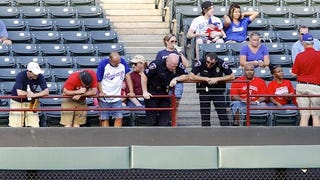 The death of Shannon Stone, the man who died after falling at Rangers Ballpark, had personal meaning for me. As a kid, I had an irrational, omnipresent fear that I would trip and fall while descending the aisle in the upper deck, and go over the edge. Especially at Shea Stadium, where the stairs were alarmingly steep.
This video comes from reader Brian, who says he has been holding onto it for "over ten years." That makes this reporter the first person injured in the 59-year history of Langley Speedway. Of all finguhs to hurt...