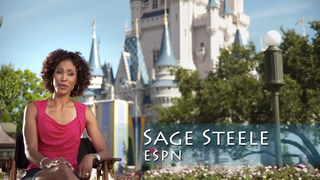 Last week we told you that ESPN had offered Sage Steele the host's job for NBA Countdown. It took her a few days, but she has said yes.
In October, Doug Gottlieb, a radio host and basketball analyst who'd decamped for CBS the previous month after nine years with ESPN, went on The Dan Patrick Show and dropped something of a truth bomb about his time in Bristol:
As first noted over at Awful Announcing, things got a bit awkward yesterday at the tail end of the 3 p.m. SportsCenter on ESPNNEWS when Steve Weissman joked that there was flirting between fellow anchor Sage Steele and Patriots wide receiver Wes Welker, who was doing the Bristol media tour Tuesday.
LOS ANGELES—On Nov. 5, ESPN Senior VP Joan Lynch woke up in her home to find a front tire of her vehicle slashed. This is notable for two reasons. The first is that Lynch lives in the Pacific Palisades, which is not the sort of neighborhood where one gets one's tires slashed. The Palisades is west of Brentwood; it's a…