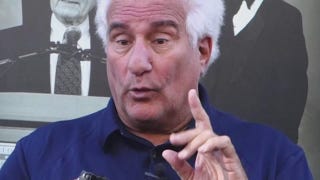 Ted Leitner's best known as the voice of the San Diego Padres, but the longtime broadcaster also serves as the play-by-play man for San Diego State athletics. With just over a minute remaining in the Aztecs' thriller against New Mexico today at the Mountain West Conference title game in Las Vegas, a security guard…
Southern University defeated Champion Baptist College last night in Baton Rouge by the pedestrian score of 116-12. It could have been worse; the Jaguars led the Tigers 44-0 until CBC made a free throw with 5:10 remaining in the first half. The entire thing was a farce, but according to the NCAA it's an official game;…
With the Big East in full meltdown mode, two of the traditional basketball powers are considering a move to the ACC—or, barring that, UConn and Cincinnati will take their ball and go start their own conference, according to The Sporting News. The only flaw in this plan is that the new conference would blanket the…
This August brought momentous news: San Diego State Aztecs head coach Rocky Long had done lost his mind, and would be implementing essentially the strategy all advanced football stats people have been stridently advocating since the dawn of advanced football stats. Long was going for it on fourth (inside the other…
Field goals—fuck 'em, right? They've been called "an anachronistic holdover from the game's rugby origins" in this space before, and finally someone with a little cojones (and a football team) may get rid of them altogether.
The two greatest phenomena of this year's college basketball season, BYU folk hero Jimmer Fredette and 27-1 San Diego State University, will play tomorrow at 2 p.m. EST in San Diego's Viejas Arena. And not to cause one of those "ohmygodit'smaypril!" moments for you, but March begins on Tuesday, and then we're just a…
Jeff Schemmel is under fire for traveling for trysts with a married woman, while expensing the trips to San Diego State. That's gotta be some kind of recruiting violation.
Who has the best job in football? Chuck Long, who is getting paid $715,000 a year to not coach San Diego State, or the consultant getting $125 an hour to figure out how to get rid of him?
1. Tony Gwynn Was Not Always Fat. Former Padre and current SDSU baseball coach Tony Gwynn was an All-America baseball player for the Aztecs. But Gwynn was an all-conference point guard, too. In fact, Gwynn had gone to school to concentrate on basketball before Bobby Meacham convinced then-coach Jim Dietz to give him a…