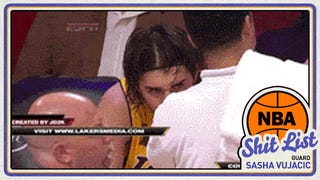 A celebration of the NBA's most infuriating players, both past and present. Read other NBA Shit List entries here.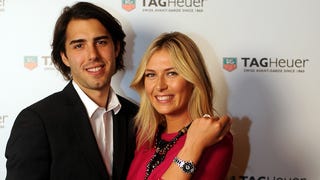 Did you remember Maria Sharapova and Sasha Vujacic were dating? Neither did we. But somehow they were together for two years and were all set to get married in November.
Tomorrow's New York Times has a feature on Maria Sharapova and Sasha Vujacic, sports' biggest power couple since Shelden Williams tied the knot with that lady. You probably remember Vujacic from the 2008 NBA Finals, when he and his hair nearly derailed Boston's title chase. He's since been exiled to New Jersey. He's…
Sasha Vujacic and Maria Sharapova are engaged, he announced last night. I bet Vujacic and Marko Jaric just high five each other and giggle constantly. [AP]
The woman offering her boning services to Lakers guard Sasha Vujacic during yesterday's parade has been revealed. The woman holding the "Spoon the crap out of me, Adam Morrison" sign is still at large. [SBB]
Because you've got nothing better to do this afternoon, I suggest you check out Lakers-Fan.com for all the adventures of Sasha "Machine" Vujacic and his Besty Friend Kobe. Stuffaluffagus. [Lakers-Fan]
Say it ain't so. He's going to take his Laker girl headband and cross back over the Atlantic if the Lakers don't increase their current $2.6 million dollar offer. In a bit of strained reasoning Vujacic's reps are arguing that no other NBA team is making Sasha an offer because they know the Lakers will match it.