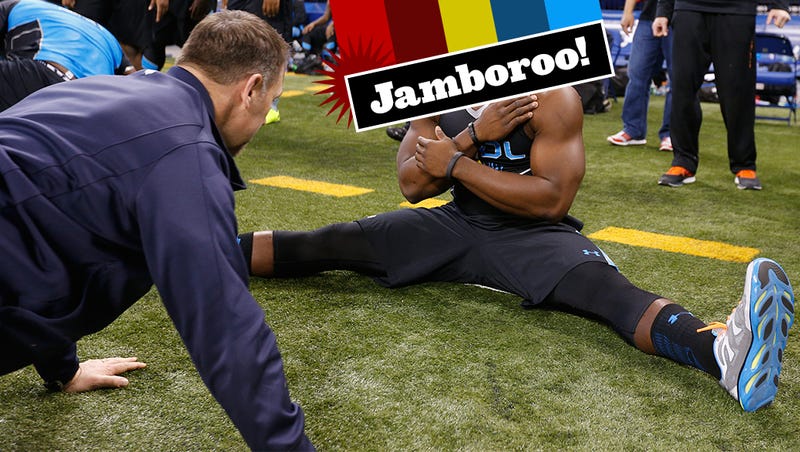 Drew Magary's Thursday Afternoon NFL Dick Joke Jamboroo runs every Thursday during the NFL season. Email Drew here.

I rolled my eyes at the claim that an unnamed NFL team had shadowed Jameis Winston on a flight—surely lots of teams had scouts flying into and out of Indianapolis around the combine. But maybe it's not so crazy. Former Tampa GM Mark Dominik admitted that in 2012, the Buccaneers dispatched a scout to Justin Blackmon's…
The Celebrity Game is without question the crown jewel of NBA All-Star Weekend, an event that provides the too-rare opportunity to see the TV and movie and music stars (and in some case, "stars") the world worships be extremely terrible at something, and for however brief a second, be able to say to ourselves, "I…
Whether or not you know it, if you're a baseball fan, you probably appreciate or enjoy the game a little bit more because of Tom Tango. The pseudonymous saberist, currently a consultant for the Chicago Cubs, has had a hand—often the most important one—in developing many of the most interesting and useful statistical…
A scouting report of Greg Maddux from 1985, the year before his first call-up, is making the rounds today. It's funny because the scout declared Maddux was "not strong enough to be a starter," and we all know how that turned out.
Two years ago, the Houston Astros constructed "Ground Control"—a built-from-scratch online database for the private use of the Astros front office. It is by all accounts a marvel, an easy-to-use interface giving executives instant access to player statistics, video, and communications with other front offices around…
A reader sent this to us last night, and we want to share it with you: a baseball scout's 1978 evaluation of Cal Ripken Jr., then a high school senior—and a starting pitcher.
Excerpted from Dollar Sign on the Muscle, named by Sports Illustrated one of the top 100 sports books of all time; postscript by Sam Miller. You can read more about the new Baseball Prospectus edition of the book here, or buy it in paperback or as an e-book.
Really nice Jonah Keri piece on Mike Trout's increasingly absurd performance in which Eddie Bane, who drafted him, explains that he was too good for anyone to believe he was as good as he seemed. [Grantland]
The circumstances surrounding the death of Yewri Guillén—an 18-year-old Dominican prospect who had been signed by the Washington Nationals—remain murky. But a piece in the latest issue of Mother Jones reveals they weren't so murky that the Nationals didn't make sure to absolve themselves of any liability.