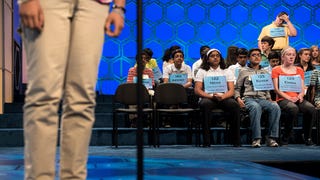 NATIONAL HARBOR, Md.—That fucking bell. There's always a split-second between the moment a contestant at the Scripps National Spelling Bee finishes a word and the moment that bell rings out, and in that split-second you can see everything: panic, fear, terror, embarrassment, denial, anger ... all of it.
After a National Spelling Bee filled with children holding back tears in front of a national audience, the academic equivalent of pageant moms, and every appearance from the wonderfully weird home-schooled girl from Philly, it took ESPN's poor sideline reporter to give us the most cringeworthy moment of the night.…
With Erin Andrews frolicking around backstage, who could blame eventual grand champion of the spelling world Sameer Mishra to let loose a little Freudian slip? How else is he supposed to sublimate that sexual energy? Rub your finger on your hand any harder and it's playing with yourself.


In commemoration of the Scripps National Spelling Bee, A.J. Daulerio's Cultural Oddsmaker makes a brief return. Email him to let him know what you think.
AJ Daulerio's Cultural Oddsmaker runs every Friday. Email him to let him know what you think.
Reaction continues to pour in on yesterday's spelling bee post (OK, we got one note, which was attached to a rock and thrown through our window). Toward the end of the post we noted that there are actually people who protest in front of the Scripps National Spelling Bee in Washington, D.C.; folks who want to…
It was the mother of all spelling bees; the 1971 Chiefs-Dolphins of word competition. In case you were for some reason watching basketball on Saturday, two young contestants in the Treasure State Spelling Bee in Billings, Mont., slugged it out for four and a half hours — 25 rounds — before a champion was crowned to…