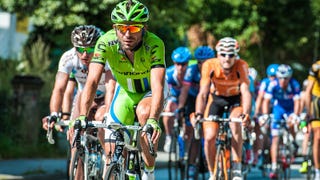 If you've ever shopped for sports sunglasses for running, cycling, hiking, or whatever else, you know there are tons of different colored lenses to choose from. From copper to rose to yellow, these do make a little bit of a difference in what you see. The Wirecutter digs into when and why this might matter.

Your fantasy team is dead. That one guy—the one you don't like—has everything on lock. On the one hand, that's too bad for you and for your friends, who are in your league and whose teams are also dead; on the other hand, it presents you and your friends with the opportunity to take up new interests. What might those…
I've never really lived in a neighborhood that drew a lot of Trick-or-Treaters, but that doesn't keep me from buying Halloween candy. Obviously, this is a task I take very seriously because, even if zero children visit my house, I want to get the as much delicious, seasonal sugar as I can for my money.
Ask An Adequate Woman is a space where folks can ask the questions they can't—or maybe just won't!—pose to their friends about relationships, fashion, family dramas, dating, existential crises, weird sex stuff, and everything else. The Women of Deadspin (and some of our clever friends) are here to happily lend an ear,…
When my wife and I moved from a 600-square-foot apartment into our 1,000-square-foot house (with garage!), I was particularly excited about a few things: 1) having my very own washer and dryer, and being able to leave shit in them as long as I damn well pleased; 2) being able to more easily justify power-tool…
So you want to buy your girlfriend some lingerie, but you don't want to be the creepy guy checking out thongs at Victoria's Secret. Buying lingerie might seem intimidating, but it doesn't have to be. Plus, the payoff of seeing your lady in that little number you bought will be well worth it. Here's how to do it right.
Who's going to dress the world's best tennis player? Yesterday, Novak Djokovic cut ties with his apparel sponsor the retro-cool Sergio Tacchini. The cash-strapped Italian designer couldn't afford to pay him and failed to manufacture enough clothing to get his outfits into stores, Darren Rovell reported.