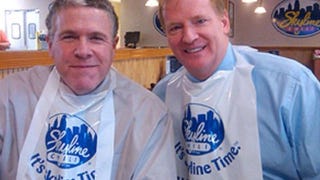 SI.com's Peter King, the most powerful NFL writer in the business, sees his job as flattering other powerful people so that they'll allow him to uncritically pass on whatever they'd like to have passed on. He's very good at it, as the incredible correction buried a couple of thousand words into his latest column…
Here's Pat Jordan's 1971 Sports Illustrated pool room story, "A Clutch of Odd Birds." It's the kind of piece you don't see much these days and worth a read.
The Tiki Barber image rehab tour kicks off in earnest (remember, he's planning to play again) with a big Sports Illustrated profile dropping tomorrow. In it, he tells a story of the time he went into hiding in the attic of his agent, Mark Lepselter.