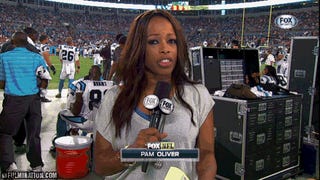 Pam Oliver will have one more season as a Fox Sports sideline reporter, although she'll no longer team up with Fox's "A" crew of Joe Buck and Troy Aikman. Oliver has written an account for Essence of how Fox broke the news to her, and on where sideline reporting is headed.
Every morning, the fine folks at Sports Radio Interviews sift through the a.m. drive-time chatter to bring you the best interviews with coaches, players, and personalities across the sports landscape. Today: Pop's wife gets on him for it, too.
Greg from Lemont, Sarah Kustok from CSN, you two are just about the cutest couple and this isn't creepy at all. Make it happen. [CSN Chicago]
The Jets harassed a female reporter during practice. According to another female reporter who was there, it was the natural outcome of an eye candy "journalist," and a bunch of overgrown young men, filled with testosterone and not much sense.
The more I watch this, the more I laugh. That's legendary Alabama coach Paul "Bear" Bryant, just barely stopping short of saying something like, "Look, you stupid bitch." Today's coaches (for the most part) are too publicly polite to embarrass a sideline reporter by pointing out the absurdity of their questions ...…