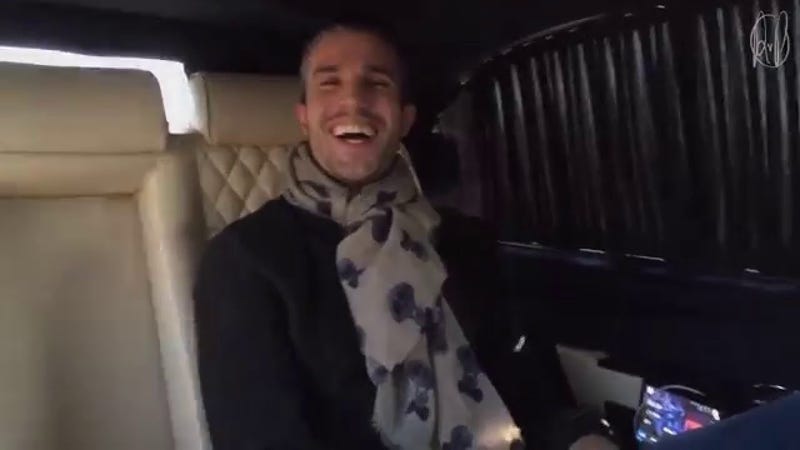 Here's Robin van Persie, proving that the tradition of tunelessly belting out your favorite songs while riding along in cars is a phenomenon that spans the globe. What he lacks in vocal quality he more than makes up for in song choice, lyrical knowledge, and commitment to really going for it. Props.
Real Madrid's crushing defeat at the hands of rivals Atlético almost put a damper on that night's previously scheduled party in celebration of Cristiano Ronaldo turning 30. Almost. Instead of feeling too down, Cristiano decided to sing and boogie the night away. Here's a GIF of his best move from the video above:

Remember when Mariah Carey could sing? Most millennials probably can't. "All I Want For Christmas Is You," she sings, but we'd suggest adding "a new voice" to her letter for Santa. Only Rep. Peter King could vocalize something more tone-deaf in New York today.
Former Tigers manager Jim Leyland has a well-known love of singing, and it was a possible career path if that whole baseball thing hadn't worked out for him. A couple great moments of him singing have been captured on tape, like when he sang some of the Stylistics hit "Betcha by Golly, Wow" during a trip to the Motown…
What you missed while you were trying to nail your girlfriend on your parent's couch while watching Prime.
•College football: I wanna be a cowboy, baby. I can smell a pig from a mile away.
• NBA: Nowitski...goooood!
• College football: Rutgers caps off memorable season with win in bowl game that will never have the…