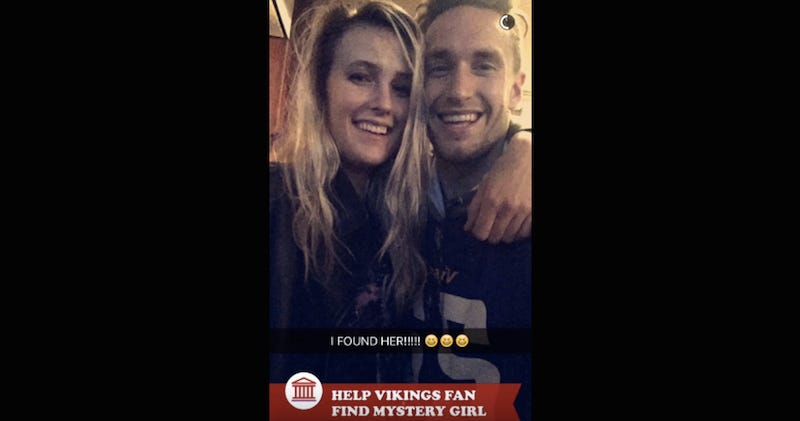 If you use Snapchat—probably not, because you read Deadspin and are statistically most likely to be an irritable dad with a law degree—you were probably captivated by the romance of the week. Two University of Wisconsin students, "Mystery Girl" and "Vikings Fan," noticed each other on the school's Snapchat Story (a…
So Snapchat has chosen to celebrate 4/20 with a totally advisable Bob Marley filter that gives you blackface and dreadlocks. They'll be pulling it and humbly apologizing any time now; I am typing this as fast as I can. Anyway, here are some experiments I've conducted. Thank you for your time, which I realize is…
Heavy rains flooded Houston and parts of southeast Texas today, affecting approximately four million people. Public transportation is shut down; schools have been closed; and Houston Mayor Sylvester Turner asked this morning that all non-essential city employees stay put. Is Texans defensive end J.J. Watt an essential…
Lewis Hamilton has a thing for using Snapchat. Formula One Management has a thing for protecting its incredibly exclusive broadcast rights. Those two things don't mix well, and F1 head honcho Bernie Ecclestone put a personal ban on Hamilton's Snapchat use in the paddock—which Hamilton broke that very day.
If three's a trend, then sex in public places is definitely in right now. Maybe it was Valentine's Day, the inescapable Fifty Shades of Grey movie, or just ... I don't know, global warming? ... but people were getting down in full public view last weekend. The latest tale comes from the University of Tennessee, where…
Fresh off of being hacked, Snapchat's logo makes an appearance at the Rose Bowl, in honor of the university that birthed it. Technically, guys, it shouldn't have eyes or a mouth, which were removed due to the startup's ongoing legal battle.