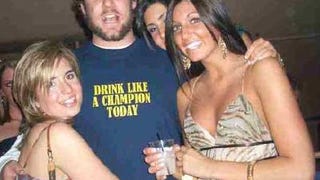 What mother wouldn't want a puffy, bloated, thick-necked bouncing baby boy? Thanks to a sperm bank in Los Angeles, you can make your dream of birthing Ben Roethlisberger's baby without sleeping with Ben Roethlisberger come true.
Suffering from an Olympic letdown? Not willing to watch the Democratic Convention? Well, ESPN would like to take you inside the world of athlete sperm on E:60. Yep, tonight at 7 eastern, it's Sperm U.
E:60 correspondent Tom Farrey exclusively reports the story about the ultimate effort to buy athletic advantage – the…
Apparently, they've been running low on sperm in England, not just in general, but at the sperm banks. So, to make sure that any perspective sperm recipients receive the goods from the most intelligent, calm, rational donors possible, sperm banks are considering setting up shop right outside Premiership soccer matches.