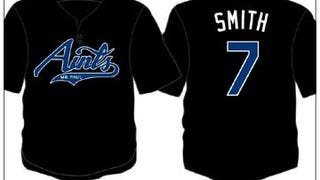 Except the shorts the American Association's St. Paul Saints will give away are Tweeting Wiener Boxers, and not Tweeting Weiner Boxers, both because it's National Hot Dog Day and because the Saints would rather be cheeky than direct about former congressman Anthony Weiner. Although we know any New York minor league…
The independent league St. Paul Saints will change their name to simply "The Paul" until after Sunday's NFC Championship. The Minnesota legislature is also in the process of de-canonizing Saint Brett. [Via Speedy McWeed]
Got an image you'd like to see in here first thing in the morning? Send it to tips@deadspin.com. Subject: Morning crap.
Here's comedian and senatorial candidate Al Franken throwing out the first pitch at a St. Paul Saints game earlier this season. It was a wise move on Mr. Franken's part, considering that the Saints' attendance that day was 12,450, and he's currently trailing in his U.S. Senate recount with Norm Coleman by only 136…
We've always thought if there were a mainstream sports breakthrough for a woman, a sport in which a woman could compete on the same field as men, it would be as a knuckleball pitcher in Major League Baseball. It doesn't require strength, and you need to be smart. And not just women can do it: Old men could too.