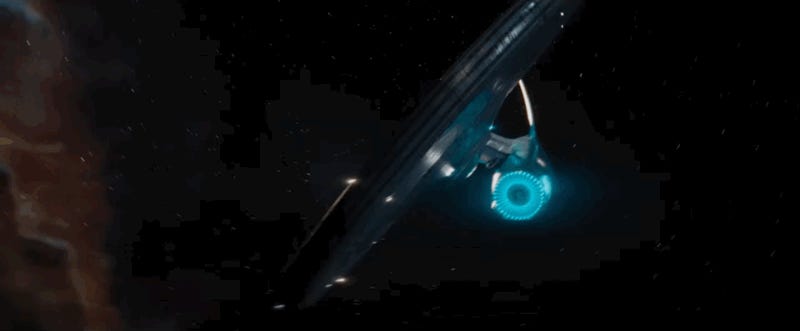 The Star Trek Beyond trailer is full of beam-outs, fight scenes and explosions. But what does it mean? We went through it frame by frame, trying to figure out just what kind of mess Kirk and the rest of the Enterprise crew have gotten themselves into. Here's our detailed gif-and-screencap breakdown!
Villains sure do like to be captured on purpose, don't they? We've seen it again and again as a trope, but it's not always a bad thing. Sometimes, it does show just how brilliant our bad guy is. And sometimes, it shows just how stupid our heroes are. Here are the best — and worst — times a villain got sent to the…
Star Trek broke new ground by having a spaceship without fins and rockets, and by consulting with the RAND Corp. on its design. And the Enterprise is indeed a beauty. But the Federation's coolest starship isn't flawless, by any means. Here are the 10 biggest design flaws in the U.S.S. Enterprise.
Participants in the annual Barkley Marathons are allotted just 60 hours to claw through more than 100-miles of unmerciful wilderness, enduring extreme temperatures and changes in elevation that equate to climbing up and down Mount Everest. Twice. Since 1986, only fourteen out of over 1,000 participants have finished…
All your friends have Netflix. We can all access a wealth of movies any time we want. But DVD box sets can still make fantastic gifts, if they're cool-looking enough, and contain stuff your loved ones will watch over and over. Here are the most beautiful (and cheapest) DVD box sets to give to your friends and family.
We thought you should know that Al Davis stated recently that he will not retire until the Oakland Raiders win two more Super Bowls. We're not saying that it may take a few years, but we did immediately think of this photo. "Al, if you want a two tight end set, beep twice. For a running play, beep once."
At halftime of the Michigan-Ball State game on Saturday, of all people, freaking Picard proved something we've always suspected: Anybody can be a damned band conductor.