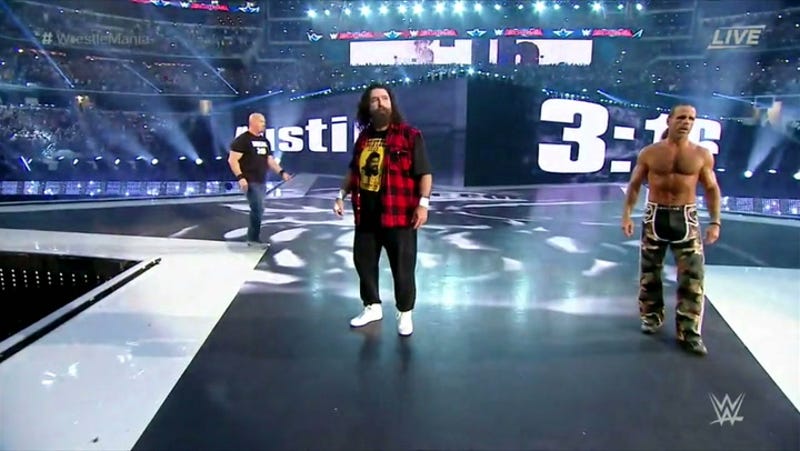 "Attitude Era" WWE stars Shawn Michaels, Mick Foley, and "Stone Cold" Steve Austin returned to the ring tonight at Wrestlemania to defend New Day's honor against the League of Nations, with the, uh, veteran wrestlers performing their famous finishing moves of Sweet Chin Music, the Mandible Claw (with Mr. Socko), and…
Yesterday, we all appreciated the meme that is Randy Orton RKOing people on the internet. It's still happening, and—BY GAWD, THAT'S STONE COLD'S MUSIC.
WWE megastar "Stone Cold" Steve Austin made these comments on his podcast months ago, but they're just now making the rounds in wrestling circles, and they're more than worth highlighting. From the man who wrote his own chapter and verse, it's a very forceful and in-character stand in favor of gay marriage.
For those of you who didn't have the $54.50 to spend on pay-per-view this weekend, we have compiled the best moment's from Sunday night's WrestleMania 27. There were many highlights: Snooki did a backflip, Stone Cold Steve Austin laid the smack down, and Trish Stratus and Michelle McCool wrestled for Josh Matthews's…

A fellow masquerading as "Stone Cold" Steve Austin charged some dim bulbs at a Wal-Mart in Indiana for his autograph, then hightailed it through the crowd before a bunch of referees and backstage security could detain him. He then drank a couple beers and gave some people the finger.