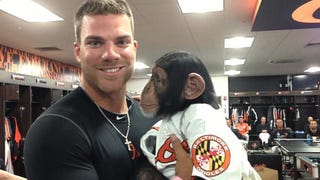 Chris Davis: four games, 9/15 on 18 plate appearances, four homers, .600 batting average, 1.600 slugging percentage, and 16 RBI, breaking the old record of 12 through the season's first four games. Now where can I get me some of that sweet, sweet monkey dust?
The Chicago Blackhawks were blown out on Friday, 6-2, the latest disappointment in a season full of … oh. Hmmm. It seems the Blackhawks had begun this season with an NHL-record streak of points, and that this loss dropped them all the way to 21-1-3. Their winning clip looks like an elite save percentage. In fact, no…
Looks like Garfield and Carl Crawford's heckler aren't the only ones who hate Mondays. The Braves had put together a mystifying, 0-16 streak in Monday games going back to last August. What's more, it hasn't been close: Atlanta only had three one-run losses over that span, all to the Marlins.