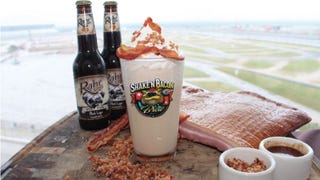 Texas, an already well-known culinary paradise where nothing is considered un-fryable, just got a little bit better this afternoon after the Texas Motor Speedway announced it will offer a bacon-infused beer milkshake as a concession.
Yesterday during the National Rifle Association-sponsored NRA 500 at the Texas Motor Speedway, it was reported that a man died in the infield. Today, the medical examiner has determined the cause of death to be suicide. Kirk Franklin, 42, of Saginaw, Texas, shot himself in the head. The Associated Press (via USA…
Kevin Harvick has never won a Cup race at Texas Motor Speedway, and two hours before Sunday's race he received a sign from above: This wasn't going to be the day.
The WWII vet was honored — for "a lifetime of blood donations" — with a ride at Texas Motor Speedway when his car plowed into the wall, killing him. How will they honor him for his organ donations? [AP]