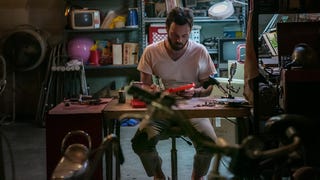 Media Burn Archive, a repository of old Chicago-y videos, just rolled out a second installment of Jack Brickhouse's Once A Star, an interview program from the '80s featuring a bunch of ex-athletes. The first installment is here.
A reader named Scott alerted us to this video, which is apparently an episode of a local television show Michael Jordan had in 1989 called Michael Jordan's Airwaves. MJ sits down with Chicago sports anchor Jim Rose in front of a live studio audience to talk about the upcoming season. It oozes 80s goodness. Here are…
Dave Winfield only spent one season with the Blue Jays, but his role in helping Toronto win the 1992 World Series made him a legend in the eyes of Hogtownians. That wasn't always the case, though. After a 1983 incident in which Winfield killed a seagull during warmup tosses—an incident that earned him animal-cruelty…
We all love laughing at old team photos. There's the passé fashion and the awkward facial expressions, and some dude's dumb dog is always the "team mascot." The photo above is no exception. Look at those short shorts! The bad haircuts! The gigantic tank and semi-automatic weapon! What a bunch of dweebs—wait, what?
The song originally written to honor Canadian Paralympic hero Rick "Man In Motion" Hansen is now paying tribute to another athlete who's on a roll who's inspiring people worldwide. John Parr, who earned a Grammy nom in 1985 for "St. Elmo's Fire," released his updated version yesterday featuring lyrics like:
Phil Simms released this workout video in 1987, the year he was named Super Bowl MVP. It has lots of Lycra, big hair, and some help from pros Todd Christensen, Eric Dickerson, Tony Dorsett, Phil McConkey, Reggie Williams, Gary Anderson, and Rulon Jones. If by chance you still own a VHS player, you can get this on…