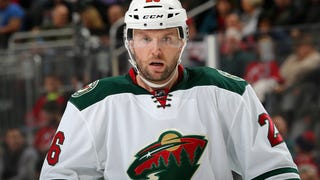 This summer, Minnesota Wild winger Thomas Vanek found himself caught up in a federal case against three men accused of running a gambling ring out of an Upstate New York bar. Vanek, who played nearby in both Rochester and Buffalo, served as a witness, but his link to the alleged bookies was unclear. This should make…
Minnesota Wild winger Thomas Vanek was in a federal courthouse today, and in a statement he says he's somehow involved in a federal case against three men charged with running a sports betting ring out of their upstate New York bar.
The Islanders and Blues were tied 3-3 in overtime when Thomas Vanek scored what appeared to be the game-winner. It looked like it hit his skate but the red lamp lit, the referee pointed at the net and Blues goalie Jaroslav Halak skated off the ice without incident. Replay eventually reversed the call, though, and…
Everyone's got Hertl fever! Two days after Thomas Hertl's four-goal extravaganza, which included a preposterous between-the-legs goal, Buffalo Sabres forward Thomas Vanek decided to unleash a Hertl-style goal of his own.