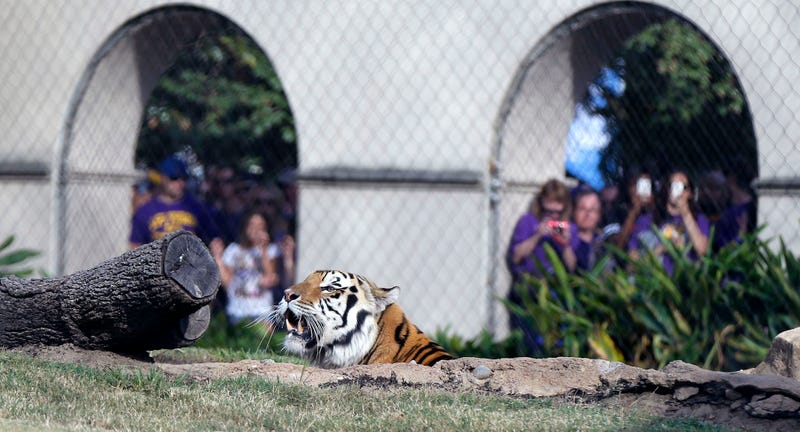 LSU's live tiger mascot, Mike the Tiger, has a rare and inoperable form of cancer, and will soon undergo a treatment of radiation therapy that has never before been used on a tiger, reports The Advocate. A tumor was discovered next to Mike's eye by a student trainer, and a CT scan confirmed it was spindle cell sarcoma.
According to a series of tweets from Aaron Portzline—the Blue Jackets beat reporter for The Columbus Dispatch—Washington Capitals coach Barry Trotz is trying to prevent an Amur (Siberian) tiger named Foley from being transferred from the Columbus Zoo and Aquarium to the Kansas City Zoo. You see, Foley is recently…
Gather 'round, my little dreamlets. Grandpa's going to sing of the days before every baboon with a wireless connection could vomit up a website and call it news. In those long-forgotten times, human beings would staff publications—magazines and newspapers, chiefly. But as audience habits and advertising money wandered…
Not often that an SEC tilt will give you flashbacks to a Div. III game from five years ago. But today the No. 20 Aggies started slinging laterals every which way but forward while down five and out of time against No. 6 LSU, almost raising the ghosts of Trinity vs. Millsaps.
Arkansas beat Auburn today, which in itself wouldn't be so strange except that as recently as this morning it was reasonable to ask whether Arkansas would ever win another game, ever, ever. The Hogs were a preseason top-10 team that lost f̶i̶v̶e̶ four games—in September. If someone was to cushion the fall, Tulsa…
Yesterday, we talked about Savannah State football throwing itself on the altar of an increased budget for the school's athletic department; today, we see the absurd fallout that can result from a cupcake game no one is particularly invested in. The Tigers had been slaughtered 84-0 by Oklahoma State the previous week,…
Oh, this is delicious. The usually level-headed and sane Dan Shaughnessy had a few things to say following the absolute drubbing of the Red Sox by the Detroit Tigers yesterday. This one had it all. An already-short-with-the-media Bobby Valentine, continued Josh Beckett injury speculation and Shaughnessy's signature…
Obie the Massillon tiger is saved! Gov. Ted Strickland announced yesterday he "will ensure the rules allow for the established mascot programs to continue," which means Obie will be free do whatever it is a caged sideline tiger does.
Continuing the long tradition of people who have been laid to rest while wearing the gear of their favorite NFL team, that guy who was killed by the tiger at the San Francisco Zoo was sent to his great reward on Tuesday while wearing a ... you guessed it ... Oakland Raiders jersey. No word on what jersey the tiger was…