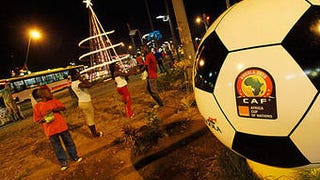 Ah, France. The French might have won the whole business two World Cups ago, but right now, they're looking like they could be in serious trouble. They need a win here, obviously, and then they have to either win convincingly or hope the Switzerland-Korea game doesn't end up in a draw. That's what happens when you…
So you know, folks: Togo is not out of this yet. You think you can count on Togo, but you can't: You just can't.
As you would probably expect, it's not good when your coach leaves the team immediately before the biggest three matches of your life. Of course, it's also not good when your team is Togo, so there's that.
On Thursday, Togo's chief voodoo priest predicted that Togo's World Cup team would win the entire tournament, which is exceedingly unlikely. I think he had his signals confused a little bit, but hey, he was close. Miss Togo did win the Miss World Cup pagent.
The World Cup is ominously close! So that you aren't caught offside (they have that in soccer, right?), we're previewing all the participants, bringing you Four Things You Don't Know About Them. If you have a tidbit, send it along to tips@Deadspin.com. Today: Togo! And for World Cup previews that are even better than…