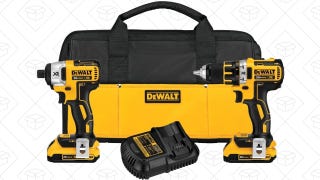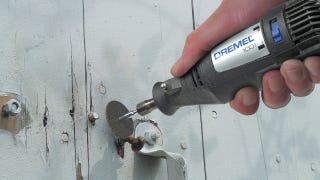 If you have any home improvement projects on the horizon, this discounted Lowe's gift card is like $10 in your pocket. I suggest spending it on a six pack to consume while you operate power tools. [$100 Lowe's Gift Card, $90]

Winter might be winding down, but you can get ready for the next big snowfall, whenever that might be, with great deals on Snow Joe snow throwers. Prices start at just $120, but note that this is a Gold Box deal, so be sure to grab yours before the deal melts away. [Snow Joe Gold Box]

If you want to have the best Jack-O-Lanterns on the block this Halloween, be sure to pick up this Dremel Pumpkin Carving Kit while it's on sale for $19.
Frequently in this space, we will consult a different entry in the 1987 book The Modern Man's Guide to Life to see how the advice therein has aged. Last week, we discussed bear alarms; today, we're talking about sharpening an axe.

A Dremel rotary tool is one of the most versatile gadgets you can have in your tool chest, and this cordless starter kit from Amazon is down to $75 today, an all-time low.
At first glance, this looks like a run of the mill flashlight, but with the flick of a switch, its entire body lights up to act as a handheld lantern with four levels of brightness and up to 72 hours of battery life. Plus, it recharges over USB, so you'll never have to swap out the batteries. [LOFTEK Smart Portable…
Chargers DT Antonio Garay was just fined $15,000 by the NFL for a hit below the knee on Tom Brady in Week 2, but he will be laughing all the way to the bank, because he drives a tiny car with a Hello Kitty on it and tweets pictures of it all the time. So, ha!