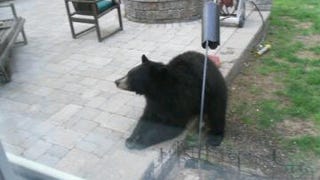 We now return you to your regularly scheduled non-bear news. [Twitter]
Also, please face forward and remain seated and wait until the ride comes to a complete stop.

NFL Live's silver-haired lead dog Trey Wingo is one of the more likable chaps over at ESPN and straddles the line between Disney drone and regular guy better than most other WWL employees. Wingo took some time away from cuddling with Mark Schlereth to speak to Dan Levy's OnTheDL podcast and gave an interesting…
During yesterday's Spygate meet-and-greet with the press, Roger Goodell and Matt Walsh revealed everything and nothing as to how this whole misguided mess actually transpired. What we do know? According to Goodell, Patriots coach Bill Belichick continues to be full of shit about his misreading of the rules excuse, the…
Trey Wingo's real name, in case you're wondering, is Hal Chapman Wingo III. Our family's naming conventions require the son to name his first son after his father, which means our name is William Franklin Leitch III, and our father's is William Bryan Leitch II. We've tried to come up with a good nickname for "William…
AJ Daulerio's Cultural Oddsmaker runs every Friday. Email him to tell him what you think.