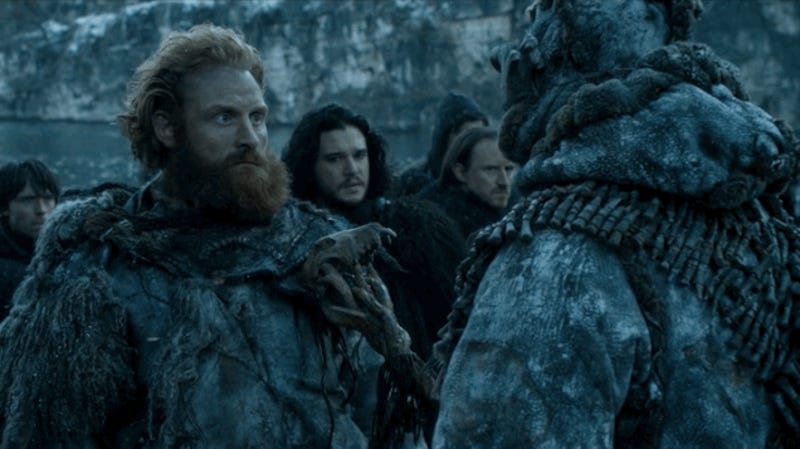 Last night's Game of Thrones was a welcome return to form. It was also a weirdly structured episode: Half a series of vignettes about faith and learning to read people, and half a rip-roaring apocalyptic action movie. But it was all tied together by the contrast between single-minded zombies and undependable humans.
Two different groups of scary fanatics went on a rampage in the latest Game of Thrones episode, and it was pretty upsetting to watch, even by Thrones standards. The Sons of the Harpy and the Sparrows both want to restore old traditions, and they both build on the weaknesses of two very different queens.Spoilers…
Things are tense in Alexandria. There's only one person who can keep the group and the Alexandrians from turning on each other, and that's Rick Grimes. Which makes it problematic that Rick Grimes is missing, and Crazy Rick — last seen making imaginary phone calls to Ghost Lori — has taken his place.
Even George R.R. Martin might have needed to rewind a couple times to figure out some of the characters' motivations in the Game of Thrones season finale. There were out-of-left-field plot twists and self-destructive choices, some of which weren't in the books. But here's one secret to making sense of the whole…
This was Game Of Thrones' big battle episode, and it featured huge set pieces. HUGE. But you know what was really huge? The characters, and their incredible defining moments. There was sex, love, heroism, cowardice... and lots of killing. We've rounded up all of the defining moments in last night's insane showcase.
Last night's Game of Thrones was like a marathon of rug-pulling. Time after time, we saw the truth revealed — only to have it turned on its side somehow. There were so many slippery moments where the truth became the biggest lie, it was only fitting when we saw a confession turn deadly. Spoilers ahead...
Back in Game of Thrones season two, we heard a lot about how Tyrion was taking to court intrigue in King's Landing. How he was enjoying playing politics, and discovering he was quite good at it. The sad thing? He was horrible at it. Almost as bad as Ned Stark. Last night's episode pretty much proves it. Spoilers…
Last night's Game of Thrones had a lot of scenes where people tried to consolidate their power. Some people make alliances, others bully their followers, and still others try to send their enemies on suicide missions. When your hold on power isn't secure, you have to be crafty and ruthless as fuck. Spoilers ahead...
Was last night's Game of Thrones cathartic for you? It seems to have been for a lot of other people. But don't get too excited — the huge event at the end of last night's outing changes nothing. Because the episode goes out of its way to show that we've only dealt with a symptom, not the disease. Spoilers ahead!
Remember when all the characters on Game of Thrones were shiny and new? Now Tyrion Lannister can't get laid in a whorehouse. His brother Jaime has lost his groove. The Stark girls have death in their hearts. Jon Snow's a traitor forever. Last night's premiere showed these characters aren't just broken, but broken…