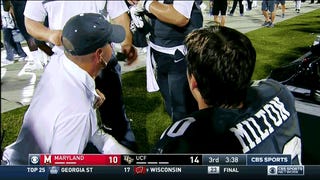 I hope someone sends these photos to FIU to show them that not every Florida novelty court has to be disgusting.
Identical twin brothers Shaquem and Shaquill Griffin committed to UCF today, but the two DBs—Shaquem's a safety, Shaquill's a cornerback—were on the field for one final high school game last night. The International Bowl, pitting American prep stars against the world's best, saw Shaquem dive for this interception,…
It was so brief, we weren't sure we had seen it correctly, but reader Todd sent in the video: UCF's dance team seems to be organized around, if not led by, an extremely tall, enthusiastic and graceful male dance teamer. We like his style. We like his passion. We like his pom-poms, and the fact that he isn't afraid…
Marshall head coach Tom Herrion appeared to have survived "The Big One" toward the end of the second half against UCF on Saturday, when he was allegedly elbowed by Knights guard Isaiah Sykes and collapsed in pain. Repeatedly. And rather dramatically.