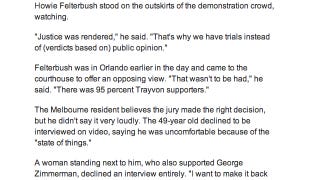 Al Neuharth's obituary in the New York Times was notable as much for what it did say as what it didn't. What it did say: The founder of USA Today and driving force behind Gannett's dubious rise to "a communications Leviathan" profoundly changed the newspaper industry. What it didn't say: Anything much nice.
The past week in sports has been so gay! We've had Manti Te'o saying he's "far from" gay last Thursday; we've had Ronaiah Tuiasosopo claiming he's trying to recover from his gayness (good luck with that, champ); we've had that SI photo of the two 49ers fan-dudes making out at a gay bar; we've had an ex-49er being…
Like the call that handed the Seahawks the win over the Packers two Mondays ago, the ruling in the Braves-Cardinals death match was complex enough to trip up the layman. The call on Golden Tate's "touchdown" could, if you squinted, have been justified based on a slippery understanding of the concept of the…
Earlier this month, the results of the first Coaches' Poll were released. No surprises—LSU first, Alabama second, USC third. In the preseason, the poll is useless except as a talking point, and anonymous unless a coach wants to volunteer that information. Arizona's Rich Rodriguez didn't mind, admitting that he had USC…
Here's a photo of two dudes being dudes at the Canadian part of the Olympic Village that was just uploaded to USA Today's Pinterest board. And here's a photo of just one of the dudes before the other one came by to grab a look outside. There is no back story.
Remember our old friend Sarah Phillips, the internet huckster and former ESPN columnist? One of her many tricks, we learned, was to buy followers on Twitter—a new scheme for a new era. The more followers you have, the more influence you can claim to have. In a monetized social-media landscape, the Twitter follower…
The old new paradigm got a piece of a newer paradigm this week, as once-revolutionary USA Today acquired the Big Lead. What does this mean? Blog posts slipped under your hotel-room door? We pulled some numbers from the press release to illustrate how it all might fit together.
What would we see if we could step into the mind of Barry Bonds? The Mad Hatter would be hosting a tea party in there, certainly. Posters of Gilbert Gottfried and Prof. Irwin Corey on every wall. Fantastic creatures would abound — animals not found in nature, such as a spiny jackrabbit, and a half-man,…
Lots of hot topics in sports news these days: Steroids. Amphetamines. Racism in the NBA. That thing on Scoop Jackson's lip. But USA Today is keeping us abreast of the hot issues: Native American mascots! The nation's best-selling hotel doormat rips the lid off the Massive, Late-Breaking Controversy. Apparently — get…