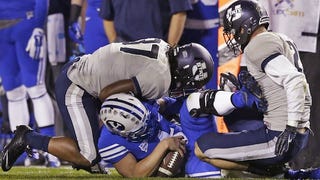 You normally wouldn't stay up late on a Friday night for Brigham Young football, but if you were ever going to, it would have been this season to watch quarterback Taysom Hill. Hill had five rushing touchdowns and five passing touchdowns in the Cougars' first four games of this year, garnering some serious Heisman…
Forbes's latest best guess at the most valuable college football programs is out, and if you're a Texas fan, congratulations: Your slavering devotion to the Death Star of the Big 12 has paid off once again. You're number one! Granted, you're in the "also receiving votes" category in the AP's poll of on-the-field…
Ohio vs. Utah State is your early evening bowl game. Regardless of what may happen in the game, fans are guaranteed to have been witness to greatness. Earlier today, in the south endzone, the "largest potato on wheels" was unveiled.
West Region: No. 6 Marquette (24-9) vs. No. 11 Utah State (30-4)
When: Friday, 12:30 p.m., EDT
Where: Taco Bell Arena, Boise, Idaho

MARQUETTE GOLDEN EAGLES

1) More Dominic James Melodrama The oft-maligned Dominic James was Marquette's most important player, despite Doug Gottlieb-esque 46% free throw shooting. In his…
Here is visual evidecne of the Pistol Pete/Big Blue donnybrook at the WAC tournament. Pete—sans mustache—is not afraid to go for the throat.
"[W]ith 7 seconds left and New Mexico State leading 70-69, Utah State's mascot, 'Big Blue' the bull, confronted New Mexico State's 'Pistol Pete' cowboy mascot and ripped off his fake mustache." [ESPN.com
Washington Huskies (24-6) vs. Utah State Aggies (23-8).
When: Thursday, 9:55 p.m.
Where: San Diego
1. Their Starting Point Guard Spent Eight Years in the Big House. David Pak served eight years in prison, convicted of rape at age 17. Now 28, it's safe to say he's the oldest player in the NCAA Tournament. Pak was released from prison on Christmas Eve 2001, with no background in organized basketball; Aggies coach…