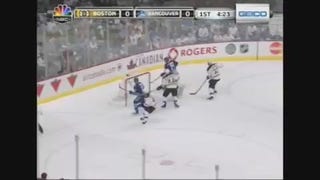 SI has a nice profile this week of hockey's undisputed signature voice, Mike "Doc" Emrick. The story picked up some of the things that make Emrick a great play-by-player: his research, his enthusiasm, his longevity.
It's a sad day here at Deadspin World Headquarters, as the Talking Dennis Miller action figure was found hanged to death early this morning by the cleaning crew. Suicide is suspected, although I blame the cat. His last words were thought to have included a snarky insult of some sort, followed by an arcane reference to…
My Talking Dennis Miller Action Figure arrived in the mail today, and I'm happier than Wink Martindale on the Island of Topless Double-D Spokesmodels. Although on close inspection Talking Dennis more resembles the guy who sold me my term life insurance. So far I haven't been able to find the button that makes him…
So is it mere coincidence that Dennis Miller starts his new sports show on Versus on the same day that we open our Sports Human of the Year nominations? (lowers glasses, looks thoughtfully at reader). We weren't born yesterday, babe. Sports Unfiltered with Dennis Miller kicked off on Tuesday, and if there were any of…

Hey there kemosabe it's me, Dennis Miller. While it's true that I've had more shows than the original Broadway run of Cats, I really don't see how one more is going to hurt. Hair plugs aren't cheap, OK babe? So pull up a footstool and check out the promo for my latest offering, Sports Unfiltered with Dennis Miller,…
Perhaps realizing once and for all that having a leaf in your logo doesn't exactly make us think you're the toughest network around — as opposed to, say, SPIKE TV, DUDE! — the Outdoor Life Network is changing its name to "Versus" in September, just in time for NHL season.