After all the pre-draft noise regarding potential blockbuster trades centered around Jimmy Butler, Oklahoma City moved first and flipped Serge Ibaka to the Orlando Magic for Victor Oladipo, Ersan Ilyasova, and the freshly-drafted Domantas Sabonis. Woj broke the news:

Victor Oladipo, the living and sole justification for the existence of the Orlando Magic, entered tonight's slam dunk contest in Brooklyn to a hilariously off-key rendition of the theme to "New York, New York" before throwing down what turned out to be a pretty damn good dunk in the opening round of tonight's All-Star…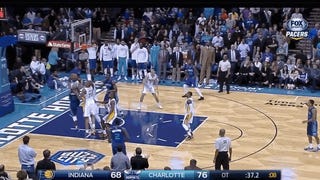 When a player bulldogs their way into the lane, it can be tough to find a teammate to pass to. With their body and focus on the hoop, most of the court isn't in their line of vision. Hitting a teammate at the top of the key, for instance, means whipping a difficult no-look pass or telegraphing their intention and…
The posterizing meme lives on, thanks to NBA rookies and former college teammates Victor Oladipo and Cody Zeller.
Have you experienced your Victor Oladipo Conversion Moment yet? It's when you watch the play that makes you realize that no one in college basketball is more exciting than the junior Indiana guard from Maryland. Every year, there's one player in college hoops who inspires such a conversion—think Jimmer Fredette or …
Indiana, clutching to its No. 1 ranking for a few more days, bounced back from an upset loss to Illinois Thursday night and beat Ohio State today 81-68.