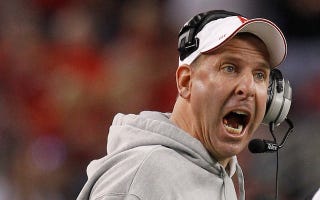 Cindy Lange-Kubick, the Lincoln (Neb.) Journal Star's Life columnist, has written a response to our Bo Pelini story in which she provides us with a number of tips for possible stories. We take all the tips we get very, very seriously, and so we'd like to use this space to let Ms. Lange know exactly which ones we're interested in.
Dear Deadspin:

I have a Polaroid of Bob Devaney at the Legion Club in 1968. He appears to be wearing a boa around his neck, and has his arm around two cheerleaders and a waitress whose name tag says "Shirley." I'd mail it to you, but it's sticky and it smells like a whiskey sour. LOL.
Dear Cindy: Yes, totally interested! How obviously drunk is Bob Devaney in the picture, though? If he's Papa John drunk, then we'd be willing to pay for express mail. If he's Eli Manning drunk, regular mail is fine.