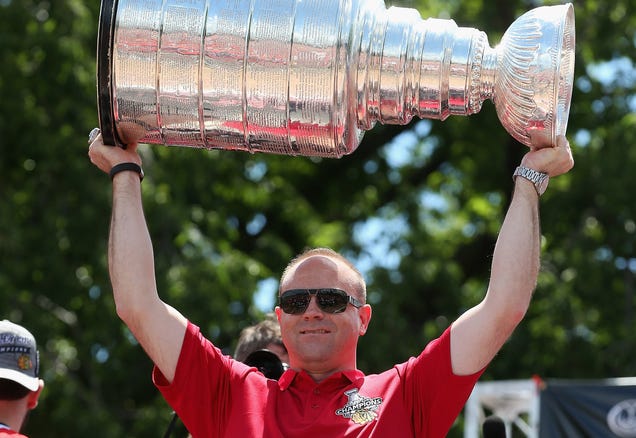 Let's play a game. I like to call it "Guess Which NHL GM's Team is a Cup Contender and Which One is Golfing." Today's contestants are Chicago's Stan Bowman, from a fascinating piece in the Sun-Times, and Calgary's Brian Burke, from a radio interview a couple of days ago.
Burke "analytics to me is can you take raw data & give me an edge on drafting or trading for a player? No one has come up with one yet"

— Hope_Smoke (@Hope_Smoke) April 28, 2014
Bowman:
"What we do is different. I think it's better, but I guess it's a matter of opinion. It's also a competitive advantage."
Burke also said that if there is an analytics system that he thinks works he'll buy it right now and he pays cash.

— Hope_Smoke (@Hope_Smoke) April 28, 2014
Bowman:
"What we have is more proprietary. Which is why I'm really trying not to talk about it. I think what we do gives us an advantage over other teams. They might say I'm wrong, but we're pretty confident that what we have works."
Burke "My view is show me. I'm from Missouri on this one, show me it works. Until then, this is an eyeballs business

— Hope_Smoke (@Hope_Smoke) April 29, 2014
Bowman:
"You can't disagree with the numbers, you can only disagree with the conclusion. People can say we're drawing the wrong conclusions, and that's fine. But I don't think we are. I'm not looking to get it adopted league-wide. I like what we have, and I believe in it."
Burke "It doesn't show you when he goes back to the bench and the coach reams him out..."

— Hope_Smoke (@Hope_Smoke) April 29, 2014
Burke "...and the guy instead of pouting he straightens his shoulders up and says to his teammates let's go."

— Hope_Smoke (@Hope_Smoke) April 29, 2014
Burke ".... It doesn't teach you those things. At the end of the day, that's what wins."

— Hope_Smoke (@Hope_Smoke) April 29, 2014
We have a special guest! Blues coach Ken Hitchcock, on Blackhawks coach Joel Quenneville:
"[Quenneville] knows exactly which players do well in what zone, where they should start, where they should finish," Hitchcock said. "He knows how to build his own lineup. He's a guy that has really adapted. It's not just adapting to the players, it's adapting to the information that's provided to you through analytics."
We've been down this road before, so it shouldn't be surprising that the guys with the biggest misconceptions about what advanced stats can actually do are the ones who aren't using them. Teams like the Blackhawks, with an internal stats staff using proprietary analytics, understand that they're complementary—they're not meant to replace hockey wisdom, but are best used to highlight the things that don't show up on the scoresheet, or in the fallible eyes of human scouts. Teams like the Flames think #fancystats just means counting shot attempts, and they're missing out on the good stuff.
"This is an eyeballs business," Burke said in that same interview. OK. You want something you can put eyeballs on? Something that points to the numbers-loving Blackhawks and Blues getting an edge over statphobes like the Flames and Leafs? It's called the standings.
Advanced analytics are the Blackhawks' secret formula for success [Chicago Sun-Times]