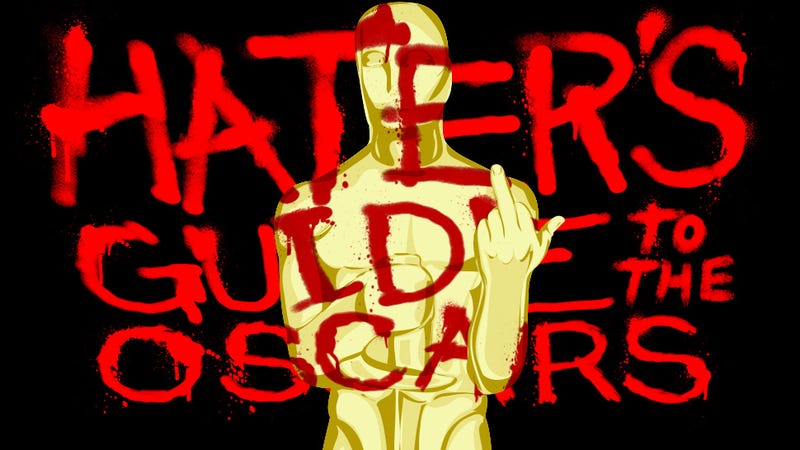 Oh hey, the Oscars are on Sunday night! And congratulations to America's celebrities for enduring another painfully long and arduous awards season. YOU POOR THINGS! Being shuttled from red carpet to red carpet, forced to wear nice clothes, asked the same dumb questions over and over again ("How's it feel to be nominated?") ... it's just such a grind, isn't it? Who has the energy to open ALL those goody bags?
Oscar season (and it is now referred to as a "season" with a straight face, specifically so that Andy Greenwald can make terrible sports analogies) is basically one long stretch of commiseration between stars and entertainment journalists, all of whom play along despite the fact that they know it's dumb and they hate participating and they ALL know that the entertainment industry is a human centipede of inanity deep throating more inanity. I bet 90 percent of all backstage conversations between stars is, "I'm so happy this is almost over," as if they just had to march to Lauenburg with a bayonet jammed between their shoulder blades.
This year's Oscars will be hosted by milquetoast elf puppet Ellen DeGeneres. When you want joke-like objects but don't want ACTUAL humor that might make anyone in the audience uncomfortable, Ellen's your woman. She's just like Jay Leno, only she's too pleasant to earn the mass scorn that Leno has dumped on him with regularity. You know who should host the Oscars? BANE. Fucking Bane should host them. No jokes. No attempt at currying the audience's favor. Just the constant threat of death and hostile takeover.
And what will King Joffrey be presiding over? An Oscar ceremony with the theme of "Heroes," which is just so specific, you know? Finally, protagonists will get the spotlight they've long deserved. I'm excited for next Oscar ceremony theme: COLORS. There are theme weeks at your local nursery school that have more nuance.
Anyway, it's time again to say horrible, awful things about every movie and actor nominated Sunday night. Except 12 Years a Slave because, hoo boy, make a joke about THAT movie and you are playing with knives, my friend. It's your Hater's Guide to the Oscars, so let's get hatin'! Please note that mild spoilers abound.
BEST PICTURE
12 Years A Slave: This movie isn't winning Best Picture. I can guarantee it. And you know why I can guarantee it? Because people are cowards. Schindler's List made over $100 million and has been broadcast on network television unedited and without commercial interruption. Ditto Saving Private Ryan. And every installment of the Saw franchise mints a new fortune. Holy shit, are we fascinated by seeing white people killed. Kill them, torture them, mutilate them, have a white girl assaulted on SVU weekly—WE WILL BE THERE. Can't get enough of it. It's important to let white people know we support them in their time of suffering.
But ask people to watch a movie about slavery? "WHOA HEY THAT SOUNDS LIKE HOMEWORK! And, God, it just sounds so brutal, you know? I much prefer movies about race to congratulate me and my fellow white theatergoers on our broad-mindedness. Let's go watch fucking Crash instead."
Jesus Christ, America. You can at least try to not be so obvious.
(NOTE: I have not watched this movie. I'm no masochist.)
Dallas Buyer's Club: Because I think we can all get behind a movie that teaches us that the doctors who know the MOST are the ones selling unapproved meds down in Mexico. Screw that fancypants doctor you got back home, with his Harvard degree and his license to practice health care in your state. He's just gonna poison you with vaccines and shit! Much better to trust a coke-snorting rodeo clown who just unloaded 500 pounds of Dr. Yucatan's Vitamin G from the back of his Lincoln. That guy ... that guy knows his shit. I bet Jenny McCarthy gave this movie a 50-minute standing ovation. Regular doctors treat you like scum. But your Mexican herbalist? SECRET MAGIC BUTTERFLY CHAMBER.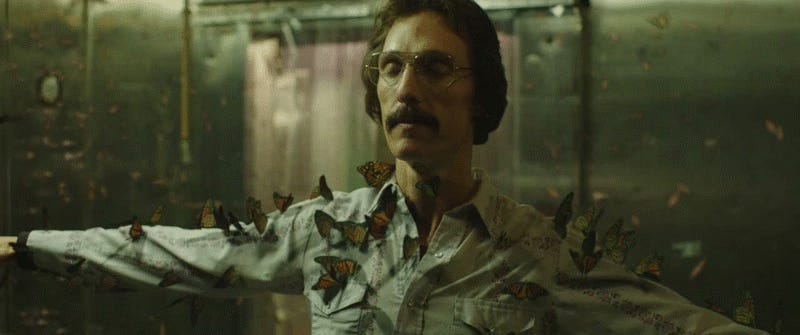 The Wolf of Wall Street: I liked this movie much more back when it was called Boiler Room, mostly because it was shorter, and because shitbag con artists do not need to be painted in shades of gray.
American Hustle: Awww, it's the sweet story of a guy who rips people off but you should feel bad for him because his wife is a bitch and he only keeps going back to her because she has an insane body! THE POOR BASTARD. If only the Feds would, like, not ask him to do stuff, so he can keep his con money and go fuck his mistress in peace, nah mean?
Every few years, the hottest actors in the world get together and pay themselves to throw a '70s theme party, and American Hustle is one such party. Thankfully, there was so much big hair and loud screaming and quick cutting and WHOA DUDE LED ZEP ON THE SOUNDTRACK RAWK and people ALMOST fucking but not quite that I still haven't realized this movie wasn't all that great! Well done, J-Law and company.
Her: Guys, I think Spike Jonze has a problem with women, because if you ever make a movie where one of the female characters happens to be a bitch, it TOTALLY means you have issues with women. What other possible explanation could there be? I mean, it's not like there are actual women out there who are of questionable character. That's just a male superiorist fantasy construct. God, men are such dicks.
By the way, I do not want to live in a future where people can earn a living wage writing dead-tree letters for other people. Not only is that a completely fabricated movie job (I'm shocked Kate Hudson hasn't done this job in a movie yet), but it suggests a 22nd century hipster-led economy in which such retro boutique businesses are somehow viable, so much so that Joaquin Phoenix is just one of MANY people crafting horseshit notes on old parchment for other bearded assholes. No way that happens. If it does, I'll torch the globe.
Nebraska: This movie was fucking awful. I genuinely hated it. People are so used to Alexander Payne making good movies that they just lied to themselves after walking out of this pile of shit and convinced themselves it was awesome. It was not. It was like visiting relatives you hate in real time. I guarantee you that there were pretentious assholes in New York and L.A. who watched this movie and were like, Oh wow, these people are so REAL. They're REAL Americans, you know? They're so fat and boring and stupid ... and they NEVER comb their hair. That realness speaks to me, because I am a fucking poser. That's how this movie ended up on every top 10 list. How the fuck did American Hustle get a backlash and this movie got off scot free? We choose our backlashes poorly.
If I were from Nebraska, I would find Alexander Payne (who is from Nebraska and clearly thought he was flattering his home state even though he'll never live there again) and piss in his flowerbed. If you liked this movie, you were wrong. I know everyone has a right to an opinion, but not this time. You have no right to like this movie. You are hopelessly deluded, and I will send your brain to be cleansed. Were you aware that there are other movies out there in which things happen? In which time moves forward?
Gravity: Is there some sort of law that any new landmark moviemaking technological achievement must be done in service of a script written by a fucking 14-year-old? I bet it's called Cameron's Law. "Hey guys, let's spend a few years literally inventing a spaceship so that we can film a movie inside a spaceship. Oh, a script? Let the fucking coffee boy go write it. Stick a girl in there somewhere, and put her in a tank top. We've got thrusters to engineer from scratch!"
And how does the astro-debris not hit Sandra Bullock on the second pass? That debris had worse aim than the bad guys in Commando.
Captain Phillips: Hey guys, a few years ago, our entire naval fleet took on a band of four dirt-poor pirates floating around with a hostage in a piece-of-shit lifeboat. And I'm happy to report that, in true underdog fashion, we won! FUCK YEAH! AMERICA DEFIES THE ODDS ONCE AGAIN. All I know is that it's a good thing Captain Phillips was a white dude with a terrible Boston accent (I bet Ben Affleck watched this movie with his pants around his ankles). Because if it had been a movie about a black hostage, OH GEE WHIZ GUYS I DUNNO IF I CAN SIT THROUGH TWO HOURS OF THAT SORT OF THING. You don't have to be all up in my face with the ugliness of history, you know! Let me just read about it instead, and maybe skip the parts where people use guns and stuff.
Philomena: What is this? This came out in a theater? No, it didn't. You're full of shit. Every year, Hollywood has to whip up a fake movie like this one, or The Reader, or Love Field, so that they have enough roles to fill out the Best Actress category. Because in any given year, there are only three open jobs for working Hollywood actresses.
Oh, Harvey Weinstein made this movie? OK, now I get it. Every December, Harvey Weinstein shows up at the door of the Academy with a gun in one hand and the title of some piddly shit indie movie in the other. And PRESTO! Oscar nominations for a movie you will never hear from again.
BEST ACTOR
Matthew McConaghey: He played a Texan! WHAT A FUCKING STRETCH. Just a remarkable transformation from Regular Laconic Texan to Alarmingly Thin Laconic Texan. It might just be the best Texan role McConaghey has ever played, and Lord knows you have choices in that department. Just look at his iMDB profile!
Mysterious Texan, True Detective (2014)
Scary Texan, Frailty (2001)
Horny Texan, Dazed & Confused (1993)
Homicidal Texan, Killer Joe (2011)
Brave Texan, Lone Star (1996)
Guy Literally Named Dallas, Magic Mike (2012)
Matt Schaub, Untitled ESPN Docudrama (2018)
I couldn't even see the actor anymore. All I could see was the Texas. Just an amazing performance.
Chiwetel Ejiofor: Pfft. He didn't play a Texan! LAME. By the way, it's gotta be fun to spend weeks in the deathly Louisiana heat, playing a role in which you are beaten and hanged and forced to re-live the horrors of the past, only to be told by the media, "Nah, you have no chance of winning. It's THE YEAR OF THE MCCONAISSANCE. Sorry, guy!" God forbid there be any suspense to this Oscar ceremony. No no, please have the media run 50,000 voter polls so that the outcome becomes ironclad. At least Chris Berman only tips picks the DAY of the draft.
Leonardo DiCaprio: I'm gonna be honest: Any time I see Leonardo DiCaprio play a grownup (which happens in every movie now), I just keep waiting for him to sweep his bangs across his face and wear little boy suspenders and start defying his parents. This is my life, Mom! Jeez aloo! I bet he totally was one of those guys who got a beard transplant.
Bruce Dern: Just be an old actor in a major role with an admired director giving you orders and you'll probably get nominated. Your character doesn't even have to TALK. You can just sit there and grunt and people will be fucking DAZZLED. Oh my God, he brings such gravitas to the role! That old man really looked like an old man up there on the screen! And if your character is unlikable, then all the better. In Hollywood, it counts as a legitimately brave act to play someone who isn't perfect. Dern is gonna clean up whenever Gran Torino 2 finally comes out.
God, I hated Nebraska.
Christian Bale: He's just doing De Niro! You shouldn't get any credit for that. De Niro is already in that movie. You don't need him twice. Anytime Bale was feeling off his game, he probably just went up to De Niro and was like, "Hey De Niro, is this De Niro-ey enough?" And then De Niro probably said GRUMBLE GRUMBLE WHERE'S MY PAYCHECK GRUMBLE. And then Bale was probably like, "That's it! That's just the kind of surliness I was looking for! Thanks, bloke!"
Also, Bale gained a lot of weight for this role and blew a disc in the process. As a proponent of spinal health, I beg you: Please don't ever be this stupid. Chances are, if you gain weight to win an Oscar, you're just gonna lose to the asshole who LOST weight. It's not worth ruining your life.