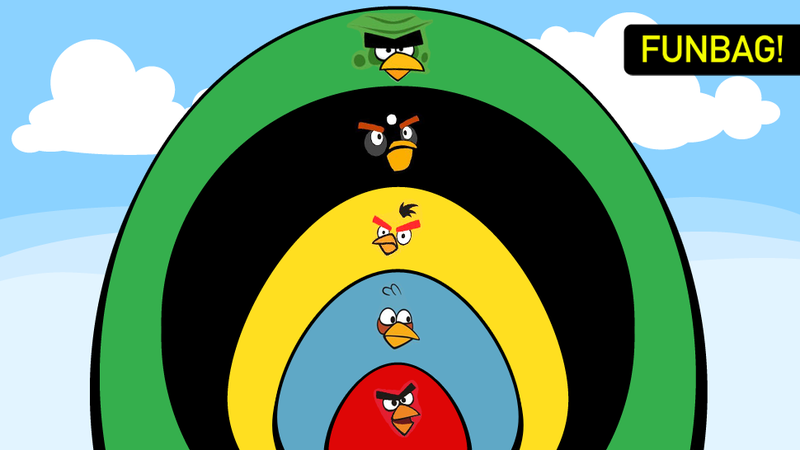 Time for your weekly edition of the Deadspin Funbag. Got something on your mind? Email the Funbag. Today, we're covering nutshots, ramen noodles, paraplegics, and more. Your letters:
Mark:
Can you rank the Angry Birds? The original ones, not the Star Wars ones.
1. The bomb one. The bomb one is fucking awesome. There should be a code cheat to Angry Bird that makes EVERY Angry Bird the bomb guy, because blowing pigs up will never get old.
2. The big, juggernaut motherfucker that smashes everything. The Angry Birds Wiki says his name is Terence, but the names they gave them are fucking stupid. That one is Juggernaut, as far as I'm concerned.
3. The little one that blows up like a balloon. I like to plant him down in between a bunch of blocks and then KABLOOEY. Nothing but rubble in my wake. It makes me feel like a big man.
4. The yellow, heatseeking missile one.
5. The girl one, even though it took me 30 years to figure out how to use her properly. Not unlike all women, when you think about it. RIMSHOT!
6. The white one that bombs shit.
7. The one that splits in three and can only break ice because he sucks.
8. The boomerang, because I never aim it right. When it does hit, it's immensely satisfying. But for the 900 times before when I fuck it all up, it gets old.
9. The red one. He does nothing. Loser.
By the way, the worst Star Wars Angry Bird is R2D2. He sucks. I don't even want to unlock bonus levels. TOO MUCH EXTRA WORK.
Tomas:
What is the cutoff for describing children as "x" amount of months?
One year. That's it. After 12 months, counting that high gets complicated. "She was born in December of 2011, so that would make her a full year this PAST December, and then you add one, two, three, four, five... wait... Do I start counting new months at December, or is that wrong? Sixteen months? Is that correct?" After the kid hits a year old, it's a year old. No one gives a shit what fractional age they are after that. The only reason parents keep track beyond that is if the kid demonstrates some cognitive skill that's, like, a month ahead of the curve. FULL SENTENCES AT 17 MONTHS GUYS! It doesn't matter. Your kid can still grow up to be a moron, while Little Johnny Paste-eater over in the corner won't speak until age four but will then become President of the World Bank.
Kids grow at their own pace, but there are deranged parents out there who refuse to accept that. They need the kid to be ahead of the curve right away, even though it means jack shit in the long run. I'm not above this, by the way. I remember my first kid took a while to start walking and I feared that she would NEVER walk. She'd just never figure out how to use her legs and feet properly and she'd spend the rest of her life dragging herself around the house, pulling soup cans out from under the sofa because her withered gimp legs were of no use to her.
This has never happened to anyone, ever. Anyone who has working legs and a functional brain learns to walk eventually. But when you have your first kid, there are all kinds of irrational worries like this that pop up in your brain. Is the baby walking? Is it cooing? Is it eating? How does it compare with other 15-month-olds? You're constantly measuring their progress. First-time parents are really annoying like that.
Matt:
If, for the rest of your life, you had to choose between eating only food that was uncomfortably spicy (say, a couple of notches above your normal tolerance for the pain of spice) or completely bland, which would you choose?
Picking spicy food pretty much eliminates dessert, unless you're one of those people that likes to pretend that spicy desserts are fun to eat. I bought a chocolate bar once with chili flakes in it and I was DESPERATE to like it–to let people know I was really into hip, spicy desserts. Instead it was just a chocolate bar with mouth fire as a side effect.
We still live in an age of people trying to prove their manhood by liking spicy foods. There are still four billion vanity hot sauces out there, and almost all of them unnecessary because we already have Frank's. Spicy food is great, but you can eliminate spicy food and still have ice cream, eggs, steak, chicken, bacon, every part of a Thanksgiving meal, pizza, and more. So you gotta take bland food. You don't need every goddamn meal to be a test of your masculinity. Also, the pooping. My God, the pooping.
Chris:
Do you think any male has ever lived a full life (>70 years) without catching a solid hit in the nuts?
No. It's not possible. Your testicles are too exposed to the outside world to never come into contact with it. And, frankly, every boy or man needs to experience the sensation anyway, so that they learn to appreciate their testicles, and so that they can try to win an argument with a woman about whether or not a nut shot hurts worse than childbirth. You'll never win that argument, but it's always fun to attempt it.
And no future generation will be spared from testicular damage because teenagers these days just love themselves some bagtagging. That's how I know I'm old, because I see guys slap each other in the nuts and I think THAT IS NOT FUCKING FUNNY. SHOW SOME GODDAMN RESPECT.
Erik:
Ramen Noodle cup. Soup, or just noodles? Go.
I drink the soup as well, only because I'm stricken with some kind of rare form of ramen OCD in which I must consume the broth or else I feel like I'm letting people down. It makes no sense, frankly. The broth isn't even good for you. It's got more sodium than a gallon of horse sweat. THE NOODLES ARE THE STAR OF THE DISH. I usually compensate by using the absolute least amount of water possible, so that there's barely any broth, and what broth is left essentially tastes like a bullion cube melted in a pat of butter. You can use a minimal amount of water if you smash the shit out of the noodles before dropping them into the water. If you don't smash them, then you gotta use a lot of water to cover up the noodle brick.
By the way, I think that ramen purveyors and the Kraft mac and cheese people should sell individual packets of ramen flavoring and cheese sauce powder, respectively. Sometimes I use that cheese powder on spaghetti, just so my kids will eat the shit. I could use an entire barrel of powdered cheddar in my pantry.
Joe:
I work at a BIG BANK on a suburban campus that houses 1,000 employees or so - we also have a decent onsite cafeteria that gets crowded at lunchtime. I've become friendly with a guy at work that is parapalegic (it's utterly amazing the work he does, let alone that he even shows up) and requires someone to feed him his lunch everyday. I help him out once a month and you would think I was curing cancer while splitting the atom. I make sure I make eye contact with everyone I see as we walk to the cafeteria.... I make a big deal about putting his lunch on his tray and filling his water bottle. I secretly pray the hot new secretary sees me shoveling mac and cheese into his mouth. Is it ok to feel this way?
I think so. Remember, Bill Clinton once said that there is "no difference between selfish and selfless if you understand how the world works." Those are wise words from a very horny man. It's perfectly healthy for you to see it as a simbiotic relationship. Your friend gets lunch. You get to look like a caring, sensitive fellow who really knows how to treat a woman. That's a win-win, as far as I'm concerned. It's okay to feel like you're getting something out of the exchange, so long as you put an effort into feeding him, and you're not cruelly giving him charley horses under the table just to be a dick.
People should always be open about the motives behind their altruism. Being nice to other people is, in fact, genetic. A geneticist named George Price once discovered that there are biological motives that factor into altruism. The nicer we are to another, the more likely we are to help one another survive as a species. This makes sense. Unfortunately, upon learning that we are nice to each other as a physiological reaction and not because we are SCRAPPY, Price became despondent and ended up killing himself by, according to Wiki, "using a pair of nail scissors to cut his own carotid artery." Holy shit, that is unpleasant. Wouldn't a machete do the job much more effectively?
Anyway, by all means, keep using your colleague as a means of scoring chicks. You could even recount your sexual escapades to him as you feed him. LET HIM LIVE THROUGH YOU.
Kevin:
Since every stadium/arena is named by some corporate sponsor, which product of each stadium would be most practical/least practical to build said stadium/arena? My money is on Miller Park as the best, because beer cans seem like they could be pretty easy to build with and stack. Plus they're shiny. The worst? Anything named after a bank that would be built by money. The stadium would be torn apart before the season even ends.
I think that the beer cans would eventually corrode and then you'd have an entire stadium leaking skunked Miller Lite, which is actually how most ballparks smell in their current form. Also, can you use mortar to bind the cans together? Or are you just stacking them and then hoping for the best?
Anyway, here are some of the leading candidates for the strongest stadium, should the three little piggies have only sponsor materials at their disposal:
Ford Field. An entire stadium made of fucking cars. Tell me that isn't a better use for most Fords than actually driving them.
AmericanAirlines Arena. Same principle as Ford Field. Also, American Airlines is fucking terrible.
FedEx Field. You could build the stadium strictly out of FedEx packages. Inside the packages? SOLID STEEL. No wolf could ever blow it down. Plus, they could sprinkle a couple of prize packages throughout the walls, so that enterprising kids could grab them and find a coupon to Six Flags inside, because that's what shitty Dan Snyder would put in the prize boxes.
Gillette Stadium. NOTHING BUT STACKED RAZOR BLADES. If a rent-a-cop chases you down for stealing a beer... BLAMMO! Your head is cut clean off when you bump into the wall.
Target Field. I've been inside a Target. Seems pretty solidly built. You can make a stadium out of Targets. Parking would still suck, though.
Now, here are the worst candidates:
Lukas Oil Stadium. Unless you could use oil drums, a stadium made of petroleum won't hold up. Just ask Exxon, since they're apparently trying to build one in Arkansas as we speak.
Ralph Wilson Stadium. Ralph Wilson is small, and frail. He'd make a terrible building block.
PETCO Park. All dead animals. That would be even sadder than a stadium made out of Ralph Wilson.
Wrigley Field. CAREFUL! THAT'S A LOAD-BEARING STICK OF DOUBLEMINT!
Sam B.:
What if in the NFL, if the offensive team was called for a penalty that would move them half the distance to the goal line, they EXTENDED the first down marker? For example, the Patriots have the ball on their own 5-yard line, first and 10. Someone on the Patriots is called for holding, a 10-yard penalty. Instead of moving them back half the distance to the goal line, making it first and 13, leaving them virtually unpenalized, they tack 10 yards onto where the first down marker was before?
I'm all for it, especially since you used the Pats as the team getting screwed in your example. SUCK IT, BRADY.
HALFTIME!
Andy:
What if, every time you jerked off, a light saber appeared where your dick once was? Would you run around touching yourself and fighting crime?
I SEE YOUR SCHWARTZ IS AS BIG AS MINE. I think I'd spend more time worried that my penis had sprouted a Jedi weapon. Even if I had been afflicted with the condition for years and years, I would still be too fearful of my penis not returning to its normal state to go out and foil criminals with it.
Besides, I don't have proper light saber training. I'd probably accidentally cut a kid's head off with it. And then what do you do? You got an army of lawyers on you and the press screaming out that you decapitated a little girl with your dick. What a nightmare.
And the worst part is that it would announce to the whole world that you just fapped. Everyone would hear that BZZZHHHOOOOO sound and KNOW what you just did. There's no more hiding it. I'll stick with a normal penis, thank you very much. Be thankful that your genitalia doesn't shape shift.
Mike:
Peed on the back of my slacks while taking a shit at work. Good start to a Friday.
Oh, that's a killer. That happens a lot in the smartphone age. A lot of people get complacent while shitting and just take it for granted that their dick will stay inside the bowl. But once in a while, it goes rogue. And when it does, the damage is irreparable. Sometimes, you don't even know it's happened. You finish up playing Temple Run, you go to pull up your pants, and there's a lake in your underwear. Devastating. WHY DIDN'T MY PENIS TEXT ME AND TELL ME WHAT IT WAS UP TO?!
Tanner:
Do you ever feel like the basketball player that gets a tech called on him but then the other team misses both of their free throws never really learned his lesson from getting the tech?
TOTALLY. If it the technical is called on a team I happen to be rooting against, I get really angry over the missed free throws. JUSTICE WAS NOT SERVED ON THIS DAY, MY FRIENDS. You should be allowed to attempt a dunk in the fouler's face. Now THAT would be a just punishment for hand-checking too hard.
There are few things worse than your favorite team failing to capitalize on something evil and/or dumb that your opponent did. If you have a favorite hockey team and they can't score a power play goal, I have to think that would make you want to hurl a loveseat through a window. It's like when your favorite football team can't score off a turnover. That's awful. You got all fucking excited when the ball was picked off–YESYESYESYESYESYESYES–and then Mark Sanchez butt fumbles the ball back on the next play. What a goddamn waste.