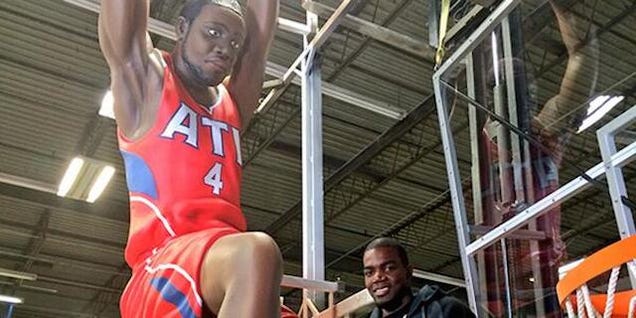 Oh, hey there. Just Atlanta Hawks power forward Paul Millsap and his gigantic likeness hanging out, shooting the breeze.
The 700-lb. Millsap created from steel and foam is part of a new Hawks billboard planned in Atlanta. Millsap's arms look odd because he's supposed to be dunking on an appropriately sized hoop.
.@darrenrovell looks at something fans will get a look at soon - a 70-foot tall Paul Millsap: http://t.co/AVdNVhuSDv pic.twitter.com/UhpUUQzS62

— Atlanta Hawks (@ATLHawks) March 20, 2014
The billboard will advertise a contest to hang out with Millsap, but what will happen to Millsap, Devourer of Worlds after the contest's over? Place him in a farmer's crops to scare off pesky animals, right? It's the only logical post-NBA occupation.