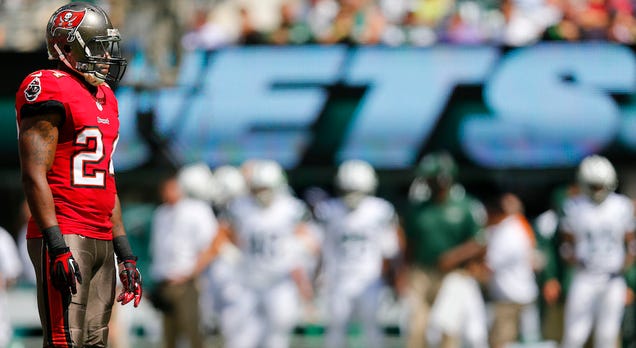 Alex Marvez of Fox Sports has the news and he says Tampa Bay is "really trying hard to trade Darrelle Revis. Hoping to strike a deal pretty quickly." Well, it should be super easy now that everyone knows.
Although @TBBuccaneers HC Lovie Smith has praised Revis, he doesn't need him for success in his defensive system. Combined with contract ...

— Alex Marvez (@alexmarvez) March 11, 2014
Revis is due to earn $13M in base salaries a year with $1.5M signing bonus through 2018. Unfriendly contract under salary cap

— Alex Marvez (@alexmarvez) March 11, 2014
Still, Revis is one of NFL's best CBs & could/should draw trade interest from needy teams who can fit him under cap and/or strike new deal

— Alex Marvez (@alexmarvez) March 11, 2014
Florio mentioned earlier this month that both the Broncos and Patriots were rumored to be interested in getting their hands on Revis and now that the Bucs appear to be very motivated sellers, it could be very easy. His contract is unwieldy so, even though there's always a way to fit a good player under the cap, a deal may be tough to come by. At this point, a trade seems unlikely. Revis is due a $1.5 million roster bonus on Thursday. Adam Schefter says, barring a trade, Revis will be released Wednesday by 4:00 p.m.
Revis makes sense for both Denver and New England—good teams that will compete right now for a Super Bowl, but not much longer—but Revis makes sense for a lot of teams. He's a good player; you never know who might bust through the door trying to get him.
Photo credit: Getty Images