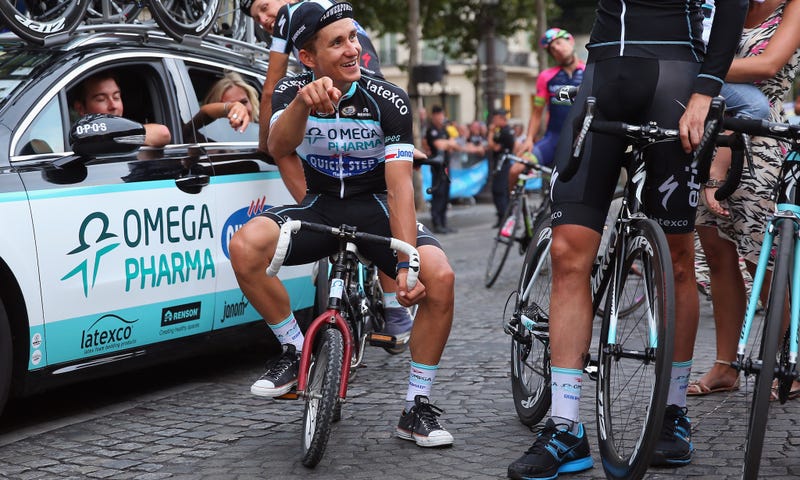 Professional cycling is pretty damn boring as a televised spectacle. The bike guys ride for like six hours; they go up and down hills; they occasionally crash; the only highlights are one bike guy going faster than the other bike guys. There are no dunks, no tackles—just different groups of the same dudes riding their bikes around until someone wins. Sometimes they fight, but cycling fights are the saddest thing. It's no wonder that the most exciting race on the calendar, Paris-Roubaix, barely pulled in more viewers than a horse jumping broadcast this spring. Nobody watches cycling. That is, until the Tour de France.

The Tour accounts for over 80 percent of TV exposure for the teams involved, and American viewership numbers have rebounded since the Lance Armstrong witch hunt kicked off half a decade ago. Sure, many people (including a Deadspin staffer) only watch it for the scenery and dope overhead shots of castles, but the cycling world relies on the ubiquity of the Tour almost exclusively for publicity from which to sell expensive bicycles to the viewing public.
The three-week counterclockwise jaunt around France starts Saturday, and odds are, most people who tune in will not be cycling fans. That's fine! Cycling fandom is illogical given how unexciting the sport is, especially on the West Coast, when every race starts at goddamn 4:00 a.m. and you're lucky to get anything better than a grainy, bootleg stream in Flemish. The Tour is far more accessible, even for the initiate. Here is a guide.
What Constitutes A Tour "de France" Exactly?
There are 21 stages, 19 mass starts, and two individual time trials covering a total of 3,519 kilometers, or 2,186 miles. Every team has nine riders, whose duties range from "mountain climber" to "water bottle fetcher" to "sprint specialist" and a whole lot more. You win the whole grand boucle by having the lowest time over all 21 stages, which is a lot more complicated than, say, trying to win every stage or anything like that. The mountains are backloaded this year, so the overall contenders will spend the first week and change tucked in behind sacrificial teammates, content to survive and save their bullets.
That doesn't mean that every single stage won't be hotly contested, or that nothing meaningful can happen on flat stages. Prominent riders crash out every year, and with the course heading straight into all the crosswinds northern France has to offer, the peloton will most likely hit the mountains with some time gaps. The old cliche about how you can lose the Tour de France in the first week but you can't win it is cliché, but it's true.
Every team comes into the race with different ambitions, which is part of the tactical intrigue of the whole affair. Because there is just so much racing, some teams will be happy with a single stage win, while some will be disappointed with anything less than multiple stage wins and the yellow jersey. The layers of ambition make every stage different. Also, someone is going to try a stupid bike change on the first time trial and it's going to cost them a minute and it'll be hilarious.
Who's Gonna Win?
Chris Froome, probably. The daddy longlegs-looking British defending champ has a lot going for him. He does this eery thing on climbs where he stares at his power meter, and rocks his head back and forth without breaking his (very high) cadence while his rivals flail and melt behind him. You'd think, looking at him, that his angular praying mantis style would be a detriment, but he's incredibly consistent at riding down attacks and picking his spots. He's not much of a punchy aggressor like Alberto Contador, he's just incredibly strong. He won this year's Criterium Du Dauphine, considered the most meaningful Tour measuring stick, with relative ease.
Furthermore, his team is full of killers, many of whom could be leaders on other teams. Sergio Henao (drug concerns aside) is an underappreciated climber, Geraint Thomas almost made the podium last year, Mikel Landa got third at the 2015 Giro d'Italia, and I have never seen Vasil Kiryienka crack. Hell, they left two riders home who would be the leaders on a few of this year's teams, as well as Michal Kwiatkowsi, a 25-year-old former world champion. Team Sky is going to have every chance to choke the life out of the race by being too big, too fast, and too strong for anyone to beat.
As for the his challengers, last year's second place finisher Nairo Quintana is still the next most-likely to win the Tour. He's a teeny tiny Colombian who might actually be a better climber than Froome. After scuffling in the early stages of last year's Tour, he ended up taking two minutes off Froome over the last three stages, and he beat him at the Tour of Romandie this year. Quintana's Movistar team isn't as strong as Sky, and they've had serious problems staying organized and deciding who to work for in the past. The course suits him, as Froome is one of the best flatland time trialists in the world, and there's only 50 kilometers against the clock in this year's Tour and half of them are uphill.
If he wins, he'll be the third non-European ever to win the Tour. Quintana's backstory hews so closely to the saccharine underdog sports hero origin that it seems apocryphal: he grew up on a small farm 10,000 feet above sea level and had to start driving taxis at age 10 to pay for school fees. At his first Tour de France, in 2013, he came out of nowhere to finish second and win the queen stage on Colombia's independence day.
Quintana isn't the unknown, mysterious South American he was cast as last year. He's 26 now, and he's finished four Grand Tours as the team leader. Quintana isn't sneaking up on anyone anymore, and the pressure for him to deliver Colombia the Tour de France title they've been craving for thirty years is only going to get worse.