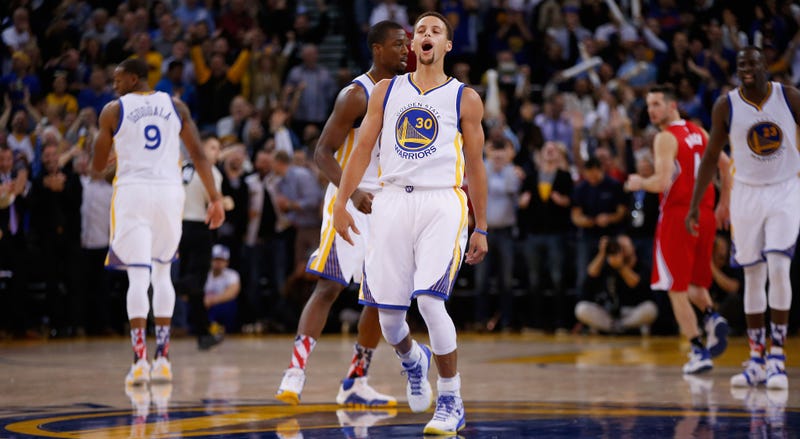 Wednesday night's contest between the Warriors and Clippers was more hyped than some playoff games, a highly anticipated match-up considering it was an early November game. They were two of the three remaining undefeated teams in the NBA, and spent the offseason engaged in a heated war of words, the continuation of three years of animosity between the teams.
Luckily for us watching, the game lived up to its top billing.
For about 16 minutes though, it looked like the Warriors—who won their first four games of the season by a combined 100 points—would run away with things. Their defense was smothering, and even with Curry spending a lot of time riding the pine due to foul trouble, they took a 17 point lead. But then Blake Griffin went off, scoring five straight points and assisting three straight three-pointers, to help cut the deficit to seven by halftime.
That's where things stood, more or less, until four minutes left in the third quarter. The Warriors put in a lineup of Steph Curry and the bench, and even with Chris Paul out of the game in his own foul trouble, the Clippers tied the game. The most noticeable absence was big man Festus Ezeli, who is doing a great job filling in for the concussed Andrew Bogut. With Ezeli out of the game, the Warriors lacked rim protection, and the Clippers penetrated the paint at will.
With Warriors fans screaming at their TV screens, interim coach Luke Walton stuck with his bench, until back-to-back Wes Johnson(!) and Josh Smith(!!) threes grew the Clippers lead to eight. But Walton wasn't doing anything Kerr doesn't: Curry always sits out the beginning of the fourth quarter, sometimes all the way to the six-minute mark. That's the tradeoff for having him fresh for the final minutes of the game.
After the Josh Smith three and a timeout the Warriors starters re-entered the game, except with Andre Iguodala instead of Ezeli. This is the Warriors' nearly unstoppable small lineup, though with Griffin and DeAndre Jordan, the Clippers are one of the few teams theoretically able to punish it on offense and stick with it on defense.