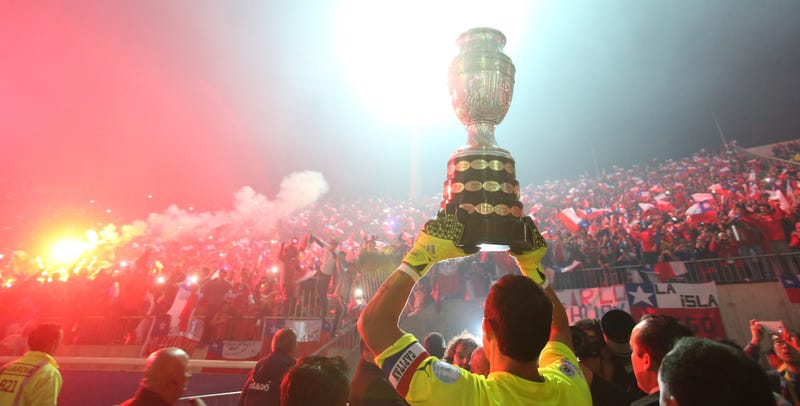 South America's continental championship, the Copa América, has never received the prestige it perhaps deserves. Despite being contested among some of world soccer's great powers, like Brazil, Argentina, and Uruguay, it has never risen to the level of consciousness of the World Cup, the Euros, the Olympics, and maybe not even the Africa Cup of Nations. Collectively South American has won nine of 20 World Cups, yet nobody can muster much enthusiasm for its continental championship.
There are a number of good reasons for this. The Copa América has never had consistent scheduling, yo-yoing between being held every year, every other year, every four years, and even occasionally every three years. With only 10 (major) countries in South America, there are no qualifiers to build hype and momentum, so the championship just sort of happens. And to spice things up and/or get 12 teams for a more manageable tournament format, non-South American countries like the United States and Mexico are sometimes invited to participate. Mexico has been runner-up twice. It's weird.
But in messing with the format and scheduling once again, the Copa América organizers have hit upon a winning combination, at least for those of us that live in the United States. To celebrate the 100th anniversary of the first ever Copa América (Uruguay won the four-team tournament), the 2016 edition will be a 16-team tournament held in the United States.
Besides the 10 South American nations, six CONCACAF countries will participate: Mexico, the United States, Costa Rica, and Jamaica, and the winners of playoffs between Trinidad & Tobago-Haiti and Panama-Cuba. Today CONCACAF announced the 10 cities that will host games: Boston, Chicago, Houston, Los Angeles, New York, Orlando, Philadelphia, Phoenix, San Francisco, and Seattle. New York is rumored to be the host for the finals.
For awhile it looked like the Copa América Centenario wasn't going to happen in the United States at all. Argentinean sports marketing firm Datisa originally held exclusive marketing rights for the tournament. But Datisa is a joint venture among Traffic Sports, Full Play, and Torneos y Competencias, all of whom saw top executives arrested in connection with the FIFA bribery scandal. According to U.S. Attorney General Loretta Lynch, $110 million in bribes were related to the Copa América Centenario alone.