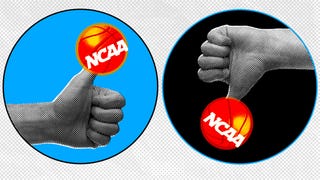 There are a lot of things to love and hate about March Madness. This is how we feel about those things.
Things We Love About March Madness
Aaron Craft: In the final second of Saturday's Big 10 tournament semifinal between Ohio State and Michigan, senior Ohio State point guard Aaron Craft was airborne. A second earlier, with OSU trailing by three, Aaron Craft had gathered himself to attempt a potential game-tying three-pointer from the top of the key. But the bigger, stronger, longer Glenn Robinson III had noticed what Craft was up do, and elevated. Maybe Robinson would've punched that shit into the lake, but maybe Craft would've gotten it off. It doesn't matter, because as he rose, the ball slipped out of his hand, floated just out of reach, then fell harmlessly back to Earth as time expired. And then Twitter exploded.
Aaron Craft is polarizing, and not in the way that, say, Tim Tebow was "polarizing." (You know what was polarizing about Tim Tebow? Being told 629 times a day that he was polarizing, as if there were two equal sides to the question of whether or not he was a viable NFL quarterback.) As far as I can tell, there are two schools of thought on Aaron Craft, and no more than two. There are the people who love Aaron Craft, and there are the people who hate Aaron Craft.
It's pretty easy to see why. He seems to work at cross purposes with himself. He's laughably limited with the ball in his hands, but he's a demon on the defensive end without it. He's a genius, or at least near enough, but also comes off as a rube. He's a pre-med student who writes Bible verses on his shoes before games. Sports pundits fawn over his supposed modesty, but it's really hard to miss that shit-eating grin. He ostensibly "plays the right way," as if a lack of skill and agility and touch on offense were somehow a virtue. He's also such a perfect interview that he comes off as a practiced interview, because let's face it: No one—no one—is that fucking hokey.
No one.
There is a lot to love there, though. Go back and read Sports Illustrated's great profile of Craft last year (if you can find it; I couldn't). There is nothing modest or self-effacing about how he approaches defense. He wants to accomplish the same thing that someone trying to stuff some 7-footer through the hoop wants to accomplish: He wants to break the other guy's will. Craft is just doing it through different means. He's showboating, too, in his own way.
So I propose a third camp: The people who think Aaron Craft deserves better fans than the likes of Rick Reilly. This March Madness will be his last, and his career will almost certainly end here in college, in heartbreak. He deserves to be appreciated for what he is, not for what certain idiots want him to be.—Greg Howard
Aaron Gordon: He's the closest thing college basketball has to Blake Griffin, and I say this knowing full well that it risks accusations of superficial analogy. Watch Gordon rubbing off a backdoor screen, hurling himself toward the rim, reaching for a lobbed pass, then crashing the ball through the hoop, and tell me it's not Griffin who comes immediately to mind.
Where Gordon and Griffin diverge is the focus of their play. Both were raw prospects coming off their first year of college but even then, Griffin was doing his best work on the offensive end, while Gordon is, for now, a defensive presence more than anything else. There's the vertical leap, which is good for a highlight block on occasion, but he also does the little things that make a coach's toes curl. He positions himself impeccably, and he contests every shot, whether they're blockable or not.
Gordon says all the right things, too. He told Seth Davis that he joined this loaded Arizona team instead of some other school where he'd be more of an offensive focus because he wanted to win. "I learned two or three years ago playing with [his AAU team] that if you win, everybody on the team gets love," he said. "So, you gotta go to a team that wins."
Because this is college basketball, and because college basketball is still covered by the kind of declensionists who get off on Bobby Knight's kid shitting all over his players, you begin to worry a little that someone, somewhere, will appropriate that quote for the purposes of invidious comparison. Look at those "old-school" values. Look at that "team-first mentality." But then Aaron Gordon will slip backdoor and crash another one through the hoop, and it'll be flashy and prideful and old-school and team-first—everything at once, to all people. Let's not argue. Aaron Gordon is the place where we can simply agree.—Billy Haisley
That First Drink After Skipping Out Of Work On Thursday: Look at that. That's a nice big beer right there. And such a sweaty glass! Goddamn that looks tasty. Why don't you sneak out of work to drink at 2 p.m. more often? Why is this not a regular part of the American work experience? We should be more like Spain, where they work for a little bit and then eat a 64-course lunch and take a nap and then half-ass a few more hours of work after that before dancing the night away. Sure, Spain has 50 percent unemployment and is constantly on the verge of civil strife, but at least they LIVE, dammit!
Time to sip that beer OH MAN THAT IS GREAT. You thought you might head back to the office around 4 to show your face and maybe send one piddly-shit email. But now that you've sipped this beer, you know: You're never going back. No fucking way. You are here for the duration. You're like a new mother who knows she won't be coming back after maternity leave is over. You will find a way to make this work, goddammit. You're not leaving this barstool. Derek's getting off work in 20 minutes and then shit will REALLY start getting fun.
This is good beer.—Drew Magary
Ed Cooley: Providence head coach Ed Cooley is missing a few things: about 125 pounds, and his house. Casual fans might barely recognize Cooley if not for his signature hair patches (the result of a skin condition) because the previously hefty former Fairfield coach is down to a svelte 222 pounds from nearly 350 less than a year ago. Cooley's also, quite literally, homeless after a fire damaged most of his family's house.
It's probably safe to assume he'll be able to afford a new one after leading the Friars to their first Big East title in 20 years and their first NCAA tournament appearance in 10. (With a very possible win in their opening game against North Carolina, he'd give Providence their first win in the tourney since Pete Gillen brought the Friars to within overtime of the Final Four in a 1997 Elite Eight loss to Arizona.)
All this for a coach who never even managed to take his previous team, Fairfield, to the Big Dance. It's a wonder Cooley even scored the Providence job to begin with; previous coach Keno Davis came into Rhode Island with both coaching pedigree and having come off a 28-5 season with Drake. But it never worked for Davis at Providence, and an honest observer wouldn't fault the Big East squad for seeking something other than an accomplished mid-major head coach for their position.
Credit, then, to the Friars for finding Cooley—a coach known for developing players but who has, unexpectedly, proven to be a top recruiter once provided the resources available at the high major level. That's enough reason to like a guy living out of a hotel, getting himself into shape, and leading a no-expectations team to the Big East title. But we mostly like Ed Cooley because he's a good dude. College basketball writers, fans, and former players insist upon telling you how gracious and patient he is. Is he the long-term answer to Providence's prayers? We hope they can hold onto him long enough to find out. — Tim Burke
Doug McDermott: The stats are sparkling: He's scored 27 points and grabbed seven rebounds per game while shooting 52 percent from the floor and 45 percent from three-point range, and he ran away with Ken Pomeroy's player of the year title. His offensive rating is a ridiculous 124.7, and he takes over 38 percent of his team's shots while he's on the floor, the second-highest rate in the country. McDermott is the biggest cog in college basketball's deadliest machine.