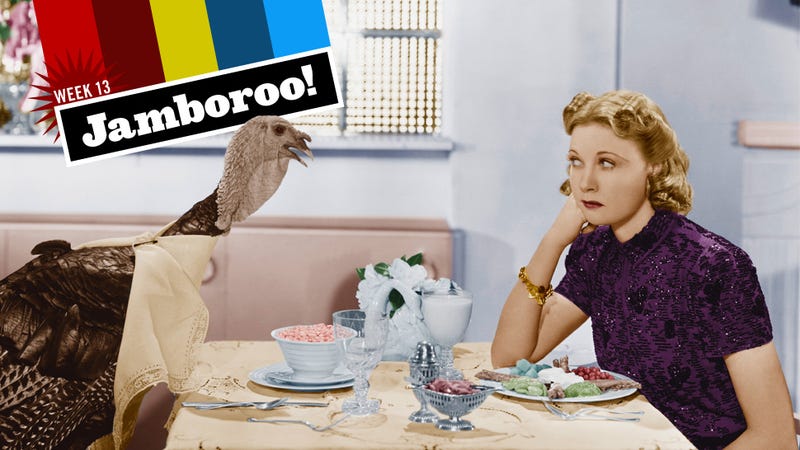 Drew Magary's Thursday Afternoon NFL Dick Joke Jamboroo runs every Thursday during the NFL season. Email Drew here.
Are you in college? Or are you a single person in your 20s? You listen to me, you little shitstain: Enjoy your Thanksgiving. No, I mean it. Enjoy the shit out of it, because at your current station in life, Thanksgiving is as good as it will ever be.
I apologize in advance for this dipshit upper-middle-class daydream, but here is what Thanksgiving is like for a person that age. You're at school, or you're living in some shit apartment. On Tuesday or Wednesday, you get in your shit car or you hop on a plane or a train, and you slog it all the way back to your parents' house. If the opportunity presents itself, you drink along the way. When I was single and living in New York, I took the Metro-North railroad all the way to the end of the Waterbury line to get to my folks' house. They sold beer in Grand Central before you got on the train, and I always bought two bigass cans of Foster's. I was lit by the time we reached Stamford. It was awesome.
Your folks pick you up and give you kisses and you tell mom that you have a suitcase full of old shirts and dirty underwear for her to wash. You get home and throw that shit on top of the washing machine and kick off your shoes and IMMEDIATELY go look to see what's on the stove/in the fridge/in the pantry for you to gorge on. CHIPS! Fuck yeah! MEAT IN FOIL! That looks tempting! NUTS! Mmmm ... nuts. There's shit cooking on the stove. Is that what we're eating tonight? Or is this all for Thanksgiving? Are we ordering out? I don't have to do anything, do I?
You do not. Your mom tells you that you should take it easy, even though you were just at college or fucking around at work and have done NOTHING productive as a human being yet. You even get this night off from doing the dishes.
Hey, there's a fire! Let's poke it.
You eat and get shitfaced and go to sleep happy. You wake up the next day and eat some coffee cake (or all of it) and walk around in your T-shirt and warmup pants and make the occasional token effort to help your mom or dad with the cooking. They send you on a miniature grocery run to get some last-minute items and you buy extra beer along the way because BEER. You bring that shit home and WHEW! That sure was hard work! Best you spend the rest of the day off your feet, watching terrible football!
More fire pokin'.
Other relatives/siblings/family friends stream in to the house and you give them a token "So good to see you!" before staring at the TV more. Mom tells you to take a goddamn shower already. You shower and put on a nice sweater. LOOKING GOOD, YOU!
You come downstairs and the turkey's out of the oven and your mom bitches at you for picking at the skin and picking onions off the top of the green bean casserole. Not your fault everything looks so edible, dammit! You make yourself a cocktail and feel super grown-up. Dinner time! Maybe it's at noon or maybe it's at 3 p.m. or whenever your family does it. Your mom wants you all to sit in the dining room even though the dining room sucks and you can't see the TV in there. You keep it on anyway just so you can hear the faint sounds of football-related things while you give thanks and then eat. And eat and eat and eat and eat.
There's nothing keeping you from eating. No spouse to restrain you. No kids monopolizing your time. There is just you and a plate (a canvas to you, really) and a bottomless glass that you can fill with anything you please. You take the best skin parts and big hunks of dark/white (your choice) first because skin is important. Some potatoes. Stuffing. Green bean casserole (if they don't come in casserole form, green beans are useless). Some cranberry sauce. And gravy. Fucking so much gravy. A lake of gravy that threatens to breach the rim of your plate. You didn't mean to load quite that much food on your first go-round, but it's not your fault everything looked good and you didn't want to get screwed over by your dickhead brother hogging the rest even though there is more than enough.
You eat until you feel repulsed by your own excess, and then you eat more because it's Thanksgiving and more eating is what you gotta do. Now it's dessert time! THREE KINDS OF PIE YO. There's apple and pecan and pumpkin and you take a slice of all three and eat the pumpkin first because pumpkin is the best, then you scoop the goo out of the pecan pie and eat that, then get more pumpkin pie because having more of that takes priority over finishing the apple pie even though the apple pie is real solid. It's a blameless victim in all this.
Then you lie on the couch and groan for two straight hours as you kinda watch the game and flutter in and out of consciousness. After that, you've got the whole night to either chill out or maybe go out with friends if they're in town. Then you go upstairs to your childhood room and fall into a long, dark sleep. And then you have a full long weekend ahead of you to eat all the leftovers and drink the rest of the booze and go to the movies and do whatever the fuck you want.
THAT is a maximized Thanksgiving, and you have only a 10- to 15-year window of that kind of ultimate laziness before marriage and kids come and you have to stiffen up a bit. At my age, Thanksgiving is not as relaxing as I would like it to be. It's frantic and messy and I have to steal bites of food in between jamming pieces of turkey into a screaming kid's maw. Half the time, I don't even know what I'm eating. One day, I hope, Thanksgiving will settle back down for me, and I can be my 22-year-old self again and slug about, eating and drinking and scratching my balls as I please without quite so many responsibilities. Maybe it won't be the Turkey Day I once knew, but I'd like to get a little of the old feeling back.
So hear me now: If you're still a fresh-faced young whippersnapper who can indulge yourself in every possible way today, please do so. Do it for me. You are living in your golden age of Thanksgiving and it would be a crime if you actually showed some restraint. This is Thanksgiving, and this is your special Turkey Day Jamboroo ...
GOBBLE GOBBLE MOTHERFUCKER LET'S DO THIS.
The Games
All games in the Jamboroo are evaluated for sheer watchability on a scale of 1 to 5 Throwgasms.
Five Throwgasms
Saints at Seahawks: Holy shit, this Monday night game is good! It's not like the San Francisco-Washington MNF game earlier this week. You can hear the contempt in Mike Tirico's voice whenever he has to watch a bumbling offense monkeyfart its way through a game. At some point, the suits at ESPN will pull Mike aside and tell him that the NFL would like him to tone it down a bit, and then Tirico will tell them that he would like to throw them on a table and fuck their brains out.