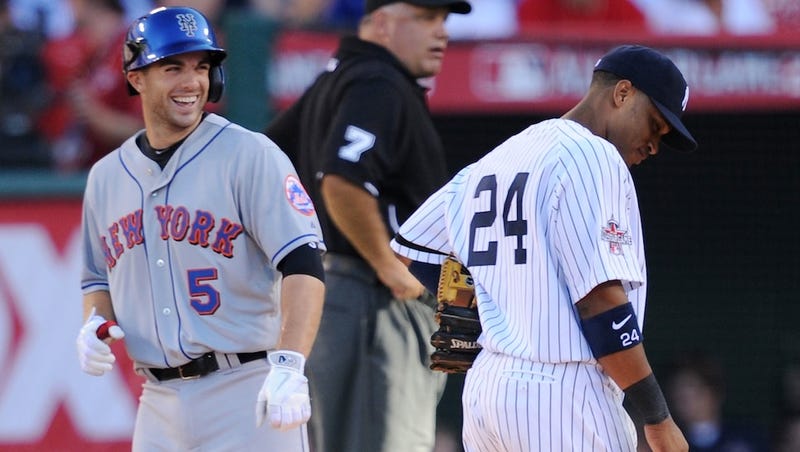 League captains David Wright and Robinson Cano have selected their squads for the Home Run Derby, and they're enough to guarantee that once again, the derby will be more watchable than the All-Star Game itself.
Wright's best selection is Bryce Harper, who missed a month with a knee injury and barely cracks the NL's top 15 in home runs. But that doesn't matter, obviously. The derby is barely about who wins, but all about the personalities and the performance. Wearing a mic and informally interacting with the other players in the event, it'll be a side of Harper most of America hasn't yet seen—and we're eager to, if even just to see how he takes it if he doesn't hit any HRs.
Harper will be the second-youngest player ever to take part in the derby, just 39 days older than Ken Griffey Jr. in the 1990 edition. And if he hits even one out, he'll be the youngest player to homer in the derby.
Rounding out the NL are a pair of Rockies: Carlos Gonzalez, who leads the league in homers, and Michael Cuddyer, who's mostly here because he's David Wright's childhood friend. (Wright called him his "Ryder Cup captain's pick.") The Cuddyer pick is the single most questionable—Paul Goldschmidt would be better for sheer power, Domonic Brown for a young star who deserves the exposure—but he's a BP stud who won't be an embarrassment.
Over in the American League, Robinson Cano wasn't facing the same dilemma as last year, when he passed over hometown boy Billy Butler and earned the enmity of the Kansas City Crowd. (Though Cano's selections finished 1-2-3, so it's hard to argue with his picks.) But Cano's two selections so far are unassailable. Baltimore's Chris Davis, who's on pace for exactly 61 homers, and Detroit's Prince Fielder, who's a giant human being that can hit the ball into the Iron Triangle.